Good morning, Andover! Here's our daily rundown of everything happening in town for Wednesday, Oct. 19 courtesy of Andover News.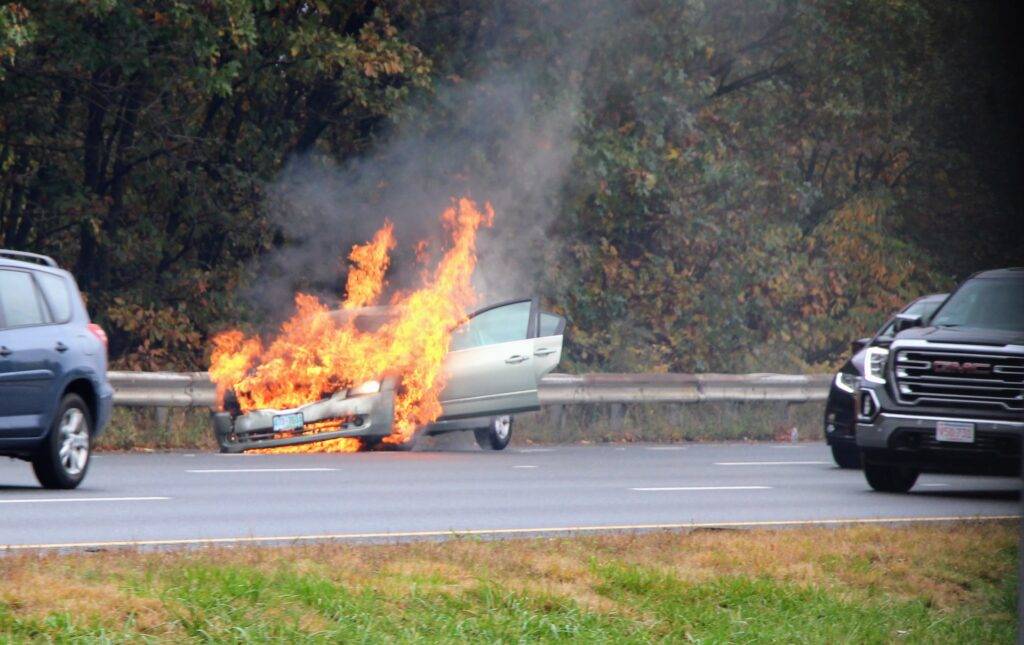 Above: A car fire caused morning rush hour delays on Interstate 495 south near the Lawrence-Andover line yesterday. Dave Copeland photo.
Sports: AHS girls soccer (10-1-4) deteated previously unbeaten Methuen 1-0. Katelyn Ambrose set up Ariranna Schwinn-Clanton for the game's lone goal...AHS boys soccer blanked Methuen, 4-0...

Monday:

AHS golf placed third behind Winchester and BC High in the Division 1 North tournament. Noah Farland shot a 71 to land in a five-way tie for second place, while Jake Morgan (72) placed seventh and Drew Fecteau (73) placed eighth...AHS girls volleyball improved to 12-4 with a 3-0 win over Chelmsford.


Weather: Sunny, high of 58. Tonight, clear skies and a low of 38. Chance of rain is less than 6 percent. Looking ahead, the weather should be very much like today through Saturday.


Programming note: I'm behind on this week's select board meeting. Look for articles on Monday's meeting later today on AndoverMANews.com and in tomorrow's newsletter. - DC
Today's Top Stories
Andover Attorney's Case Will Probe Limits Of Online Defamation Law
An Andover attorney is representing a Methuen man who says a Somerville restaurant's response to his online review has caused "significant reputational harm."


Latest Updates On Andover School, Government Building Projects
Here's the latest on several town construction projects, including the renovation of Doherty Middle School and Andover Town Offices.


Andover Halloween 2022: Trick-Or-Treating Hours, Events
The Town of Andover will also be holding its annual, downtown trick-or-treating again this year.


Happening today:
Sports
3:30 AHS girls swimming vs. Acton-Boxborough at Greater Lawrence Tech pool
4 pm: AHS boys and girls cross country vs. multiple schools at North Andover
5 pm: North Andover at AHS girls volleyball
6 pm: AHS field hockey at Methuen


Sports
6:30 pm: Central Catholic at AHS girls soccer
7:30 pm: AHS boys soccer at Central Catholic


Send us your news tips:
Know about a person or group doing something interesting in Andover?
An issue we should be covering? Have a press release for us to consider?
Submit a news tip today!
Thanks for reading. See you soon!