Good morning, Andover! Here's your daily rundown of everything happening in town for Thursday, Oct. 20 courtesy of Andover News.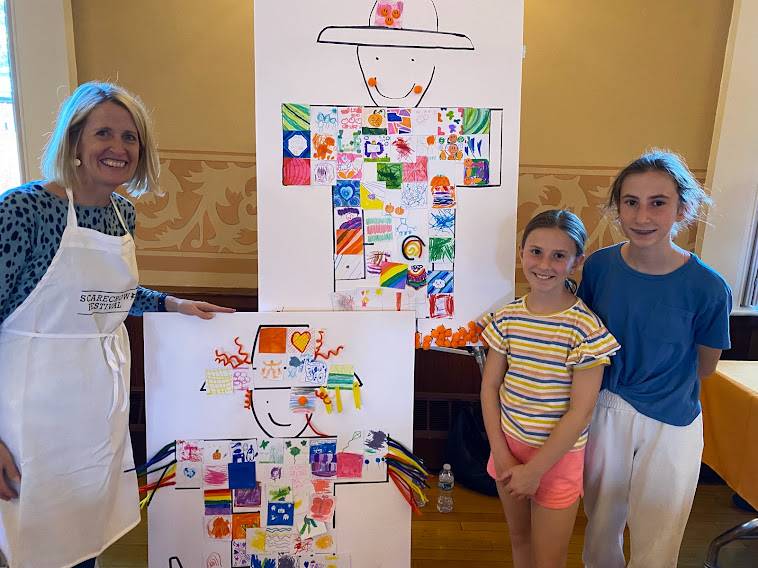 Above, from left to right: Andover Coalition for Education board member Carlie Hornbrook with Nina and Colette Kinley at Saturday's Family Fest in Old Town Hall. ACE estimates more than 600 people participated in its Family Fest to kick off its 10th annual Scarecrow Festival, which runs through Oct. 29. Photo courtesy of Andover Coalition for Education.
Sports: Bella DiFiore scored twice and Brooke Cedrochuk had a goal and three assists as second-ranked AHS field hockey (14-1) blanked Methuen 6-0...17th-ranked AHS girls volleyball (14-3) cruised to a 3-0 win over North Andover behind Marissa Kobelski's 11 kills and 13 digs....AHS boys cross country beat North Andover and fell to Haverhill in a tri-meet. The girls also beat North Andover while losing to Haverhill...Acton-Boxborough topped AHS girls swimming 98-86 (compiled from Boston Globe high school scoreboard).


Reminder: Tomorrow is an early-release day for Andover Public Schools.


Worth a Read: Guest writer Aditi Kuppuraj explores two of Andover's historic hotels in a post on History Buzz, the blog for the Andover Center for History and Culture.


Weather: Sunny, high of 58. Tonight, clear skies and a low of 38. Chance of rain is less than 6 percent. Looking ahead, the weather should be very much like today through Saturday.
Today's Top Stories
Andover Adopts Town-Wide 25 MPH Speed Limit
Andover police will not begin handing out tickets for several months, and will spend the next few months educating drivers about the new speed limits.


Andover Keeping Open Town Meeting, Considering Changes
The Andover Select Board unanimously accepted the Town Governance Study Committee's recommendation to retain its open town meeting form of government Monday, but left the door open for significant changes, including electronic voting by attendees.


Select Board Notebook: No Decision On Verizon Wireless Equipment
Also: Waiting for more liquor licenses | Ballots (almost) in the mail | Meeting agenda, packet and video


Happening today:
Sports
6:30 pm: Central Catholic at AHS girls soccer
7:30 pm: AHS boys soccer at Central Catholic


Early release day for Andover Public Schools

Andover High School and middle schools dismissed at 11:30 a.m.
Elementary schools dismissed at 12:15 p.m.
Kindness for Colleen Blood Drive at St. Augustine's Church (43 Essex Street). Register at

bostonchildrens.org/halfpints

and use the sponsor code KINDNESS.


Sports
3:30 pm: AHS girls swimming vs. Chelmsford at Greater Lawrence Tech pool
7 pm: Lowell at AHS football


Send us your news tips:
Know about a person or group doing something interesting in Andover?
An issue we should be covering? Have a press release for us to consider?
Submit a news tip today!
Thanks for reading. See you soon!