Good morning, Andover! Here's your daily rundown of everything happening in town for Friday, Oct. 21 courtesy of Andover News.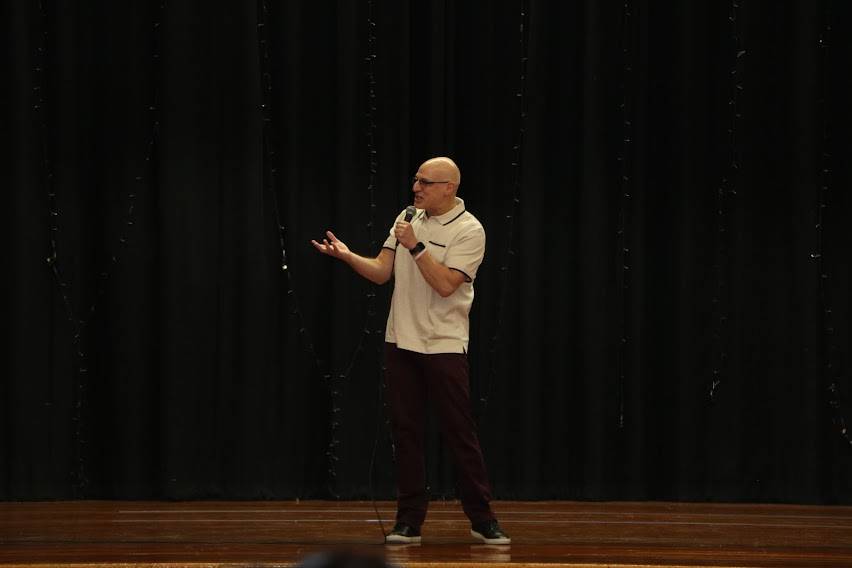 Above: Best-selling children's and young adult author Gordon Korman speaks to students at West Middle School in Andover last week. Korman visited all three middle schools in Andover, thanks to a grant from the Andover Coalition for Education.
A.M. Briefing
Sports: AHS golf placed fourth in the Merrimack Valley Conference tournament. Noah Farland shot a 74 to tie for third overall...AHS boys soccer defeated Central Catholic 3-1...Catherine Lenihan, Lindsey Balfour, and Hannah Jordan each scored in AHS girls soccer's 3-0 win over Central Catholic. (compiled from Boston Globe high school scoreboard).


Reminder: Today is an early-release day for Andover Public Schools. Middle and high school students will be dismissed at 11:30 a.m., while elementary school students will be dismissed at 12:15 p.m.


Weather: Sunny, warmer, with a high of 63. Clear skies tonight with a low of 40. Tomorrow it will be mostly sunny with a high of 68. Overcast on Sunday, with a high of 60 and a 79 percent chance of rain showers.
Today's Top Stories
West El Overruns Lower Than Original $19M Estimate
Based on the new estimates, the average Andover taxpayer would see $74 added to their tax bill if special town meeting approves funding to close budget overruns at the West Elementary School construction project.


Election 2022 Candidate Profile: Rep. Tram T. Nguyen
Andover News asked candidates in the contested state representative and state senate races in the Nov. 8 state election to fill out questionnaires outlining their experience and positions. First up is incumbent state Rep. Tram T. Nguyen (D-Andover), who is being challenged by Republican Jeffrey DuFour.


Man Hit By Car On Interstate 495 In Andover
The crash was reported near on the northbound side of the highway near mile marker 94 around 7:20 p.m. Wednesday.


Happening today:
Early release day for Andover Public Schools

Andover High School and middle schools dismissed at 11:30 a.m.
Elementary schools dismissed at 12:15 p.m.
Kindness for Colleen Blood Drive at St. Augustine's Church (43 Essex Street). Register at

bostonchildrens.org/halfpints

and use the sponsor code KINDNESS.


Sports
3:30 pm: AHS girls swimming vs. Chelmsford at Greater Lawrence Tech pool
7 pm: Lowell at AHS football


Sports
4 pm: Tewksbury at AHS girls soccer (rescheduled from Oct. 13)
5:15 pm: AHS field hockey at Cohasset


Sports
12 pm: AHS girls swimming at Haverhill


Send us your news tips:
Know about a person or group doing something interesting in Andover?
An issue we should be covering? Have a press release for us to consider?
Submit a news tip today!
Thanks for reading. See you soon!