Good morning, Andover! Here's your daily rundown of everything happening in town for Tuesday, Oct. 25 courtesy of Andover News.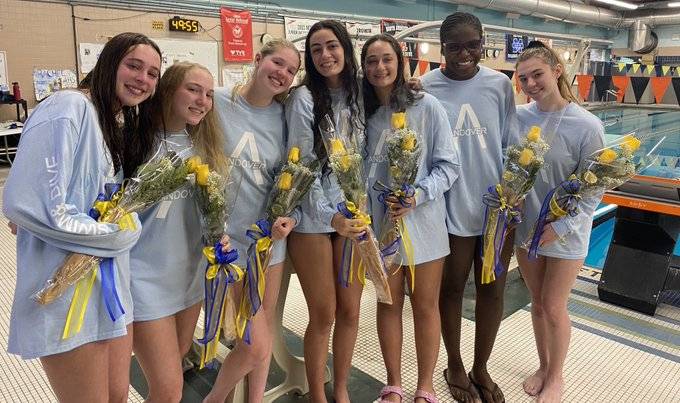 Above: The Andover High School girls swim team celebrated its senior meet with a 104-80 win over Chelmsford Friday. The team's senior swimmers (above) include Jacki Ambrose, Michaela Chokureva, Rachel Cordio, Maya Flatley, Annaya Or-Shahar, Miella Or-Shahar and May Wallace. Photo by Andover High School Athletics.
A.M. Briefing
Love that dirty water: Sunday's house fire and a water main leak at the Greater Lawrence Vocational School led to widespread reports of discolored water in the northwest part of Andover Monday. In an announcement, DPW said it is "flushing hydrants to help clear up the system as soon as possible."


Sports:

Bella DiFiore

scored twice in the AHS field hockey team's 5-2 win over Central Catholic...AHS girls volleyball (15-3) beat Central Catholic behind Sophia Miele's 10 kills, 12 service points and 13 digs.(compiled from the Boston Globe high school scoreboard).


Weather: Fog this morning, giving way to cloudy skies. High of 67. Tonight, overcast and showers. Low of 58. More rain is in the forecast for Wednesday.


Programming Note: The select board had several key items on its agenda last night, including recommendations on the special town meeting warrant articles. Coverage will be posted on Andover News later today and included in tomorrow's newsletter.
Today's Top Stories
APS Details Response To Latest MCAS Scores: School Committee Notebook
The Andover School Committee also approved the 2023-24 school year calendar and heard an update on school security protocols.


Election 2022 Candidate Profile: Sal DeFranco
Learn more about Sal DeFranco, a Haverhill Republican who is running for a state senate seat that represents Andover in the Nov. 8 election. …


Andover Halloween 2022: List Of Events
The Town of Andover will also be holding its annual, downtown trick-or-treating again this year.


Happening today:
Sports
5 pm: AHS girls volleyball at Methuen
6 pm: Lowell at AHS girls soccer
7 pm: AHS boys soccer at Tewksbury


Other Things To Do
1:45 pm: Student recital at Phillips Academy (Timken Room, Graves Hall)


6 pm: North Andover at AHS field hockey


Send us your news tips:
Know about a person or group doing something interesting in Andover?
An issue we should be covering? Have a press release for us to consider?
Submit a news tip today!
Thanks for reading. See you soon!