Good morning, Andover! Here's your daily rundown of everything happening in town for Wednesday, Oct. 26 courtesy of Andover News.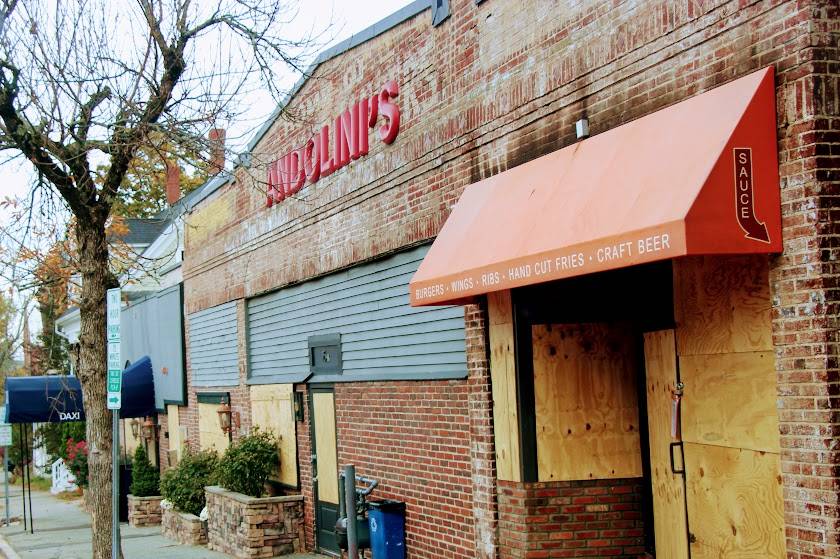 Above: 15sx, Daxi Greek Cafe and Sauce Wings and Burgers remain closed after an early morning fire on Oct. 16. The restaurants have not announced a reopening date.
A.M. Briefing
Sports: Meghan McKiernan, a 7th grader at Doherty Middle School in Andover, was chosen for the Mass Bay Colonials, a lacrosse team that will travel to Texas to play in a tournament in December...Noah Farland of the AHS golf team shot a 74 to tie for third in the MIAA Division 1 Championship...AHS boys soccer picked up a 3-1 win over Tewksbury, while the girls blanked Lowell 7-0...Methuen beat AHS girls volleyball 3-2 (compiled from the Boston Globe high school scoreboard and other media reports).


Weather: Fog this morning, with rain this afternoon. High of 63. Tonight, fog then partly cloudy with a 24 percent chance of showers and a low of 56. Sun returns tomorrow.
Today's Top Stories
No Election To Approve Extra West El Money: Select Board Notebook
The Andover Select Board also closed its public hearing on a Verizon special permit application after a third reading that lasted more than 2.5 hours Monday.


Committee Votes To Replace Andover Town Seal
The Andover Town Seal Committee has started collecting public input on a new town seal.


School Committee Notebook
The Andover School Committee also approved the 2023-24 school year calendar and heard an update on school security protocols.


Andover Halloween 2022: List Of Events
The Town of Andover will also be holding its annual, downtown trick-or-treating again this year.


Happening today:
Other Things To Do
1:45 pm: Student recital at Phillips Academy (Timken Room, Graves Hall)


6 pm: North Andover at AHS field hockey


Other Things To Do
7 pm: Andover Parent to Parent speaker series: "Raising Thrivers: Parenting Tips and Tools to Help Kids Thrive in an Anxious, Uncertain World" with Dr. Michele Borba (virtual,

registration required)


Sports
4:30 pm: AHS boys soccer at Cambridge Rindge & Latin


Send us your news tips:
Know about a person or group doing something interesting in Andover?
An issue we should be covering? Have a press release for us to consider?
Submit a news tip today!
Thanks for reading. See you soon!