Good morning, Andover! Here's your daily rundown of everything happening in town for Thursday, Oct. 27 courtesy of Andover News.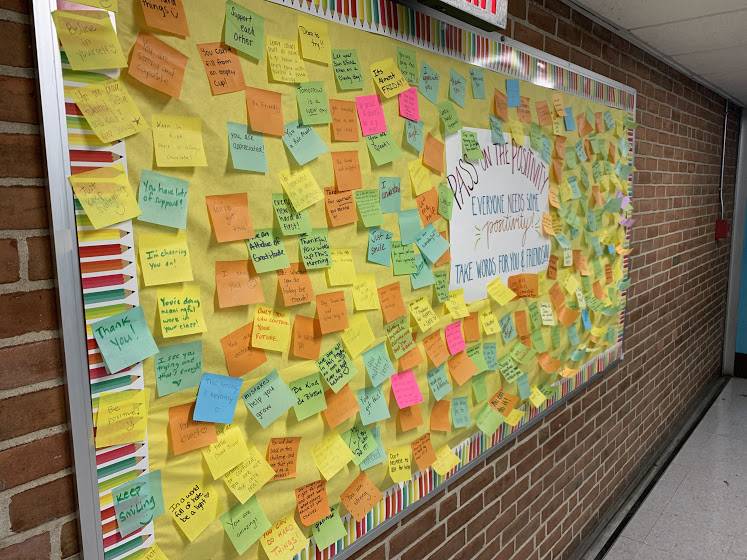 Above: My daughter is in a production of "101 Dalmations." At rehearsal at West Elementary School Tuesday night, I found this bulletin board where students are encouraged to take "words of encouragement" for themselves or to give to friends (Dave Copeland photo).
A.M. Briefing
Sports: AHS girls soccer (9-1-4) was 11th in the Boston Globe after its win over Methuen, up from 13 in last week's rankings....Emma Reilly had a hat trick in AHS field hockey's 6-1 win over North Andover.(compiled from the Boston Globe high school scoreboard and other media reports).


Weather: Sun (finally!) and a high of 62. Clear skies tonight and a low of 37. Looking ahead, partly cloudy tomorrow and a nice weekend are on tap.
Today's Top Stories
Andover Woman Accused Of Hit-And-Run That Injured 4-Year-Old
North Reading police said the Andover woman turned herself in after they identified her as a suspect in the hit-and-run crash last week.


Election 2022: Question 1's Impact On Andover
If Question 1 passes, the 4% tax would apply to about 2 percent of home sales in Andover and Massachusetts, according to the Massachusetts Budget & Policy Center.


Car Break-Ins Reported At Andover/North Andover YMCA Parking Lot
Andover police spokesperson Lt. Edward Guy said there are no suspects and the break-ins remain under investigation.


School Committee Backs Closing Construction Budget Shortfall At West El
The Andover School Committee also held a closed-door session to discuss bargaining strategy for negotiations with several unions that represent Andover Public Schools employees.


Happening today:
Other Things To Do
7 pm: Andover Parent to Parent speaker series: "Raising Thrivers: Parenting Tips and Tools to Help Kids Thrive in an Anxious, Uncertain World" with Dr. Michele Borba (virtual,

registration required)


Sports
4:30 pm: AHS boys soccer at Cambridge Rindge & Latin


Sports
6:30 pm: AHS girls swimming at Merrimack Valley Conference Championship Meet (Worcester Polytechnic Institute)
7 pm: AHS football at Tewksbury


Send us your news tips:
Know about a person or group doing something interesting in Andover?
An issue we should be covering? Have a press release for us to consider?
Submit a news tip today!
Thanks for reading. See you soon!