Time to vote, Andover! Here's your daily rundown of everything happening in town for Tuesday, Nov. 8, courtesy of Andover News.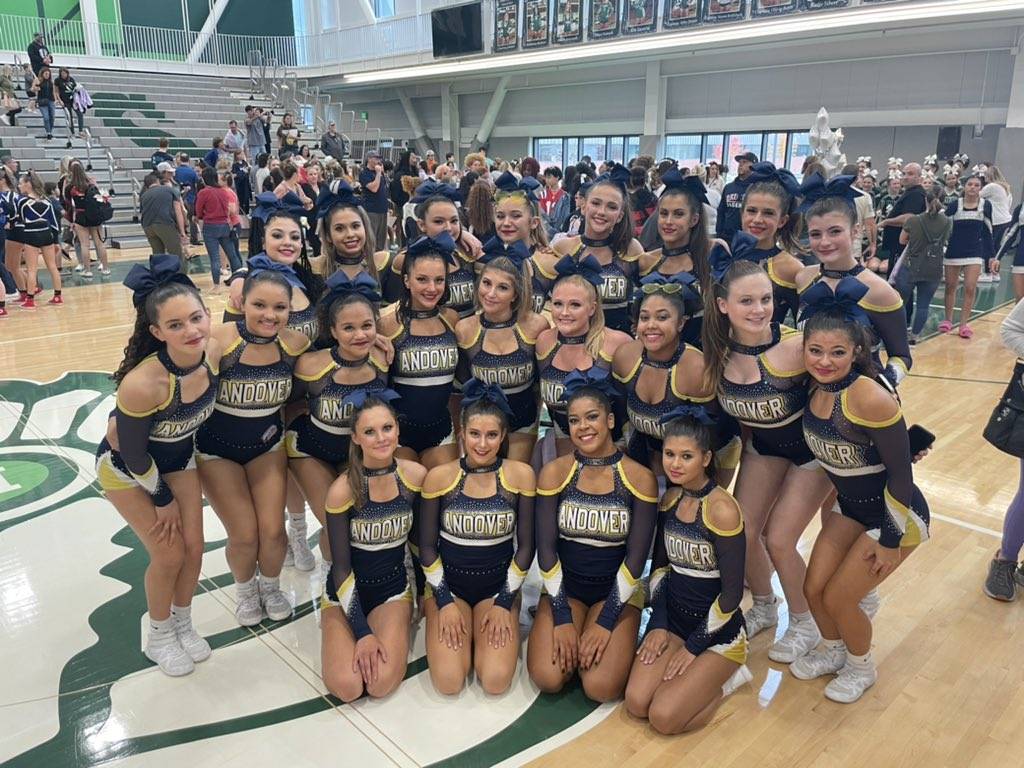 Above: AHS cheerleading placed second in the Merrimack Valley Conference Championship Sunday (Photo: AHS Athletics).
A.M. Briefing
Subscribe now and save: Lock in 29 percent off the Andover News subscription rate, which goes into effect on Jan. 1, when you subscribe by Dec. 31.


Election: Today's newsletter includes a collection of links to stories that will be useful if you're still making your voting decisions, including our Andover voter's guide. You can also browse all coverage of Election 2022 on Andover News.


Reminder: Andover Public Schools are closed today for Election Day and will be closed again Friday for Veterans Day.


Sports: AHS girls swimming placed second overall behind Acton-Boxborough in the MIAA North Championship on Sunday. Amelia Barron placed second in the 200 free and second in the 100 breaststroke. Michaela Chokureva took first in the 200 IM and 100 free, while the Warriors took first in the 400 freestyle relay and second in the 200 freestyle relay (compiled from Boston Globe high school scoreboard and other media reports).


Weather: Fall is back with sunny skies and a high of 52. Clear skies tonight with a low of 30. Look for more of the same on Wednesday (compiled from the Weather Channel).
Today's Top Stories
Andover Man Arrested After Driving 107 MPH With Child In Car In NH
Jonathan Hosmer, 36, of Andover, had a woman and child riding in the car when he was pulled over, according to New Hampshire State Police.


Election 2022
Andover Voter's Guide
Here's our cheat sheet for everything Andover voters need to know for Tuesday's Massachusetts state election.


Question 1's Impact On Andover
If Question 1 passes, the 4% tax would apply to about 2 percent of home sales in Andover and Massachusetts, according to the Massachusetts Budget & Policy Center.


Election 2022 Candidate Profile: Sal DeFranco
Learn more about Sal DeFranco, who is running for a state senate seat that represents Andover in the Nov. 8 election.


Election 2022 Candidate Profile: Rep. Tram T. Nguyen
Andover News asked candidates in the contested state representative and state senate races in the Nov. 8 state election to fill out questionnaires outlining their experience and positions. First up is incumbent state Rep. Tram T. Nguyen (D-Andover), who is being challenged by Republican Jeffrey DuFour.


Happening today:
Election Day
Voters Guide
Andover Public Schools closed.
7 am-8 pm: Polls Open


Sports
5 pm: Acton-Boxboro at AHS field hockey
Important note for Andover News readers
Beginning Jan. 1, 2023, Andover News will become a paid subscriber service.
Non-subscribers will still have access to our daily newsletter and much of our content
, but exclusive content, including our meeting coverage and original reporting, will live behind a paywall.
We're doing this to cover our costs and to make sure we can continue to grow and provide the same level of coverage of all things Andover. We'll also be using $1 from each subscription to provide complimentary subscriptions to Andover nonprofits and residents who are facing financial hardship.
The subscription rate will be $7 per month, but you can lock in a reduced rate if you sign up by Dec. 31:

Send us your news tips:
Know about a person or group doing something interesting in Andover?
An issue we should be covering? Have a press release for us to consider?
Submit a news tip today!
Thanks for reading. See you soon!