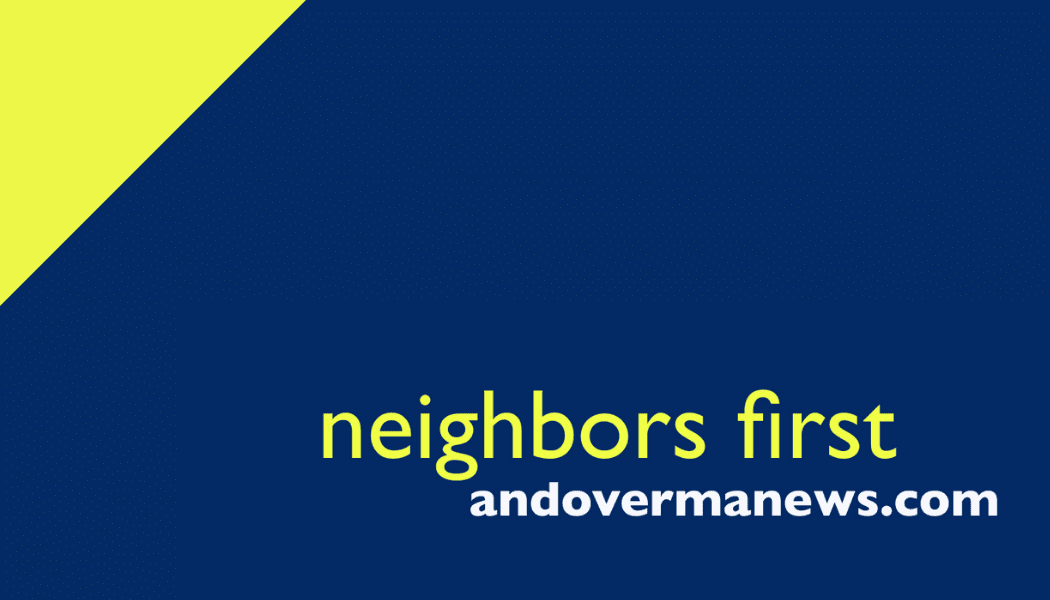 I believe the most important job of a local news site is to hold government officials accountable for their decisions and help readers better understand the place where they live. But a close second is helping build community by putting neighbors first. In an age where labels and identity politics have overtaken public discourse, we want to treat people as

neighbors first. Neighbors can disagree, and they do not necessarily even have to like each other, but they do have to find a way to live together. And that starts with learning about one another.


An independent, local news site like

Andover News

can help us better understand our neighbors and their point of view by adhering to the following values:
Civic Minded:

Good, independent local journalism fosters

better local government. In places where local newspapers have had to cut budgets and staff or, in an increasing number of cases, closed entirely, the cost of government has increased and civic participation, including voter turnout, has decreased. In the worst cases, outright government corruption has gone unchecked.
Fair:

Good journalism is not always fast journalism, so we'll let a competitor "beat" us on a story if it means we hold a story to get a more complete understanding of the issue we're reporting on. We'll give people named in our stories time to respond to requests for comment before publishing. If you think we're being biased or unfair, we'll respond to your email or voicemail within one business day to discuss the decisions made in covering a story.
Nonpartisan:The best journalism presents readers with the best version of the available facts to help them establish their own opinion. We will not endorse candidates for political offices and we will make every effort to cover issues from all sides (instead of the usual "both" sides). We will not publish editorials telling readers what we think (or, as is often the case, what we think readers should think), although we do welcome submissions of commentaries and opinion pieces from members of the community that have a clear connection to local life and issues.
Always local:

We won't chase state or national stories unless there is a clear-cut connection to Andover. Plenty of other "local" news sites already do this by aggregating coverage from other news outlets. We'd rather use the time to write profiles of local people doing interesting stuff around town, finding ways to cover local sports and keep tabs on the more than 40 boards and commissions in Andover that make decisions impacting our readers' lives.
Transparent:

Objectivity is the standard journalists strive for, but objectivity is an impossible ideal for humans to attain. The very first decision a journalist makes – whether a story is important enough to cover – is subjective. In addition to being fair, we'll strive for the next best thing: making clear where our biases lie and explaining our news decisions clearly.
Professional:

Local journalism is not complicated work, but it is hard work, and the people who do it

deserve to be paid a livable wage. Journalists should be able to afford to live in the community they cover. One of our top goals for the first year of operation is to develop a business model that will allow us to hire an experienced, full-time reporter to cover Andover. Within three years we want to expand that staff to include sports and local business reporters, a designer and editor.
Beginning Jan. 1, we'll begin charging a $7, monthly subscription to make sure Andover News can cover its expenses and continue to grow, with hopes of eventually getting to a place where we can hire a full-time staff and expand our coverage to include even more events, people and issues in Andover.


Non-subscribers will still have access to our daily newsletter and much of our content, and have access to three premium articles per month, but exclusive content, including our meeting coverage and original reporting, will live behind a paywall.


We're doing this to cover our costs and to make sure we can continue to grow and provide the same level of coverage of all things Andover. We'll also be using $1 from each subscription to provide complimentary subscriptions to Andover nonprofits and residents who are facing financial hardship.


To thank the readers who have been supporting us since our launch in June, we're offering 29 percent off the regular subscription rate for anyone who signs up before Dec. 31, 2022. You can support Andover News today for as little as $5 per month.


The subscription rate will be $7 per month, but you can lock in a reduced rate if you sign up by Dec. 31:

We're not making this ask lightly: we know inflation is raging, the holidays are approaching and there are lots of other places where you can spend $5 per month. But we believe local journalism is crucial for preserving democracy, keeping local government in check and helping to build community.


Questions, comments or concerns? Email me at dave@andovermanews.com or give me a call at 617-433-7851.