Good morning, Andover! Here's your daily rundown of everything happening in town for Tuesday, Nov. 15, courtesy of Andover News.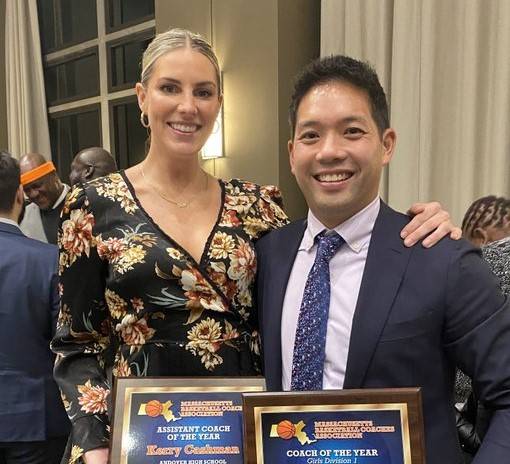 Above: AHS girls basketball coaches Kerry Cashman and Alan Hibino were named coaches of the year by the Massachusetts Basketball Coaches Association. AHS boys basketball coach Dave Fazio was inducted into BCA's hall of fame over the weekend.
A.M. Briefing
Around town: The AHS marching ban is selling holiday wreaths, swags, kissing balls, and poinsettias. Proceeds will be used for a new equipment trailer, instrument replacement and needs-based scholarships to cover activity fees. More information and ordering.


Sports: AHS field hockey is two wins away from repeating as MIAA Division I state champs. The Warriors take on Shrewsbury in Marlborough at 7 p.m. tonight (compiled from Boston Globe high school scoreboard and other media reports).


Weather: Sun this morning gives way to mostly cloudy skies and a high of 44 this afteroon. Showers followed by steady rain tonight, with a low of 33 (compiled from the Weather Channel).
Today's Top Stories
Building Committee Explains Decision To Skip State Funding For New High School
Members of the Andover High School Building Committee told its first public forum Thursday a new school would not open until 2032 if the town waited for state funding.


Andover Could Be In For Sloppy AM Commute Wednesday
Near-freezing temperatures and a coastal storm delivering snow to some parts of Massachusetts could make for a sloppy morning commute in Andover on Wednesday.


Couple Who Wrote Book On Tandem Biking Coming To Andover
"In Tandem: Pedaling Through Midlife on a Bicycle Built for Two" is a memoir that describes how the couple learned "cooperation and negotiation to assemble a new marriage on the detritus of multiple divorces, breakups, and a death" by learning how to ride a tandem bike.


Happening today:
7 pm: Shrewsbury vs. AHS field Hockey (Whitcomb Middle School, Marlborough)


Important note for Andover News readers
Beginning Jan. 1, 2023, Andover News will become a paid subscriber service.
Non-subscribers will still have access to our daily newsletter and much of our content
, but exclusive content, including our meeting coverage and original reporting, will live behind a paywall.
We're doing this to cover our costs and to make sure we can continue to grow and provide the same level of coverage of all things Andover. We'll also be using $1 from each subscription to provide complimentary subscriptions to Andover nonprofits and residents who are facing financial hardship.
The subscription rate will be $7 per month, but you can lock in a reduced rate if you sign up by Dec. 31:

Send us your news tips:
Know about a person or group doing something interesting in Andover?
An issue we should be covering? Have a press release for us to consider?
Submit a news tip today!
Thanks for reading. See you soon!