Good morning, Andover! Here's your daily rundown of everything happening in town for Wednesday, Nov. 16, courtesy of Andover News.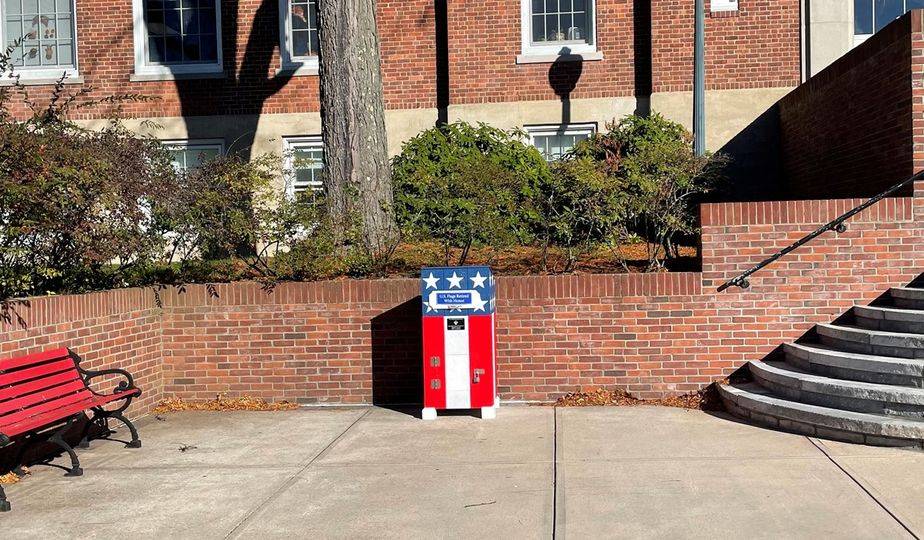 Above: The town has set up a flag retirement drop box outside of Andover Town Offices. Flags dropped off in the box will be properly disposed of under guidelines in the U.S Flag Code (Photo: Town of Andover).
A.M. Briefing
Sports: For a second straight year, AHS field hockey will face Walpole in the Division I state final after defeating Shrewsbury 2-1 in Marlborough on Tuesday. A time and date for the final has yet to be set (compiled from Boston Globe high school scoreboard and other media reports).


Weather: Steady rain this morning with showers continuing this afternoon. High of 51 with forecasters calling for about 1/4 inch of total rainfall. Tonight, skies clear and a low of 32 (compiled from the Weather Channel).
Today's Top Stories
Andover Lags In Addressing Food Insecurity: Panel
Nearly one in five school-aged children in Andover are food insecure, but stigma often prevents their families from accessing help, according to speakers at a South Church panel discussion.


Shared Streets Pilot Program Coming To An End
The temporary Shared Streets pilot program on Maple Avenue in Andover is scheduled to come to a close in mid-November.


Happening today:
Important note for Andover News readers
Beginning Jan. 1, 2023, Andover News will become a paid subscriber service.
Non-subscribers will still have access to our daily newsletter and much of our content
, but exclusive content, including our meeting coverage and original reporting, will live behind a paywall.
We're doing this to cover our costs and to make sure we can continue to grow and provide the same level of coverage of all things Andover. We'll also be using $1 from each subscription to provide complimentary subscriptions to Andover nonprofits and residents who are facing financial hardship.
The subscription rate will be $7 per month, but you can lock in a reduced rate if you sign up by Dec. 31:

Send us your news tips:
Know about a person or group doing something interesting in Andover?
An issue we should be covering? Have a press release for us to consider?
Submit a news tip today!
Thanks for reading. See you soon!