Good morning, Andover! Here's your daily rundown of everything happening in town for Wednesday, Nov. 30, courtesy of Andover News.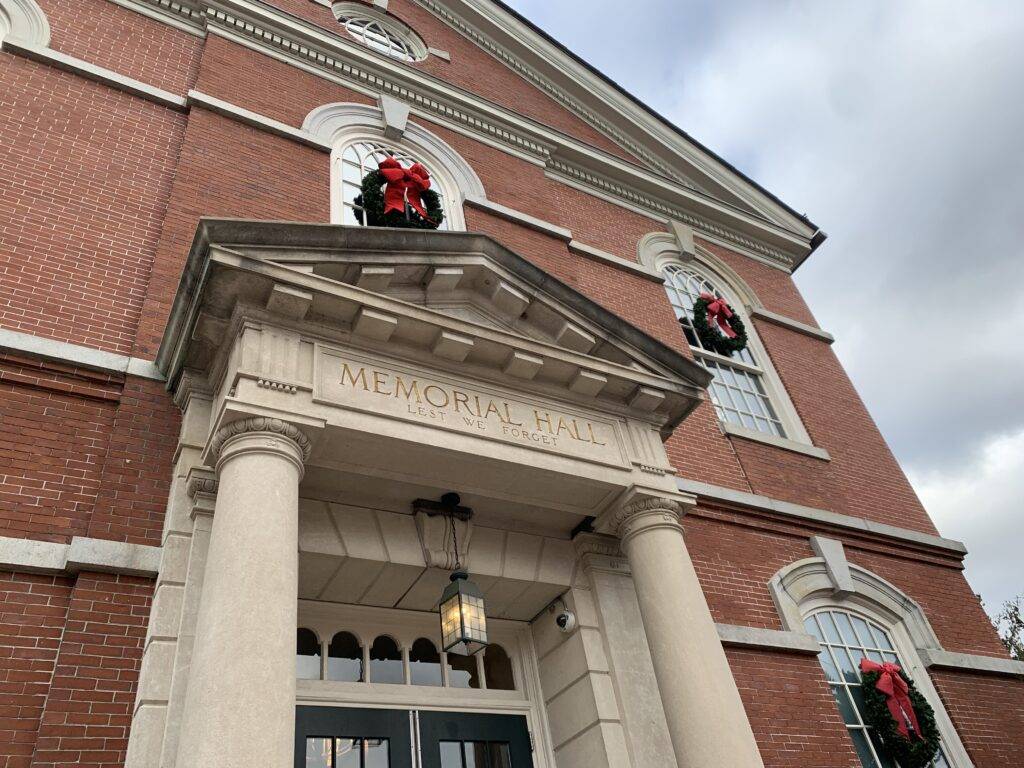 Above: Memorial Hall Library and lots of downtown businesses are decked out for the holiday season. See this week's Andover News calendar for a list of upcoming holiday events (Photo: Dave Copeland).
A.M. Briefing
Get boosted: The Andover Health Division is hosting a COVID-19 vaccination clinic on Dec. 8 from 4 p.m. to 7 p.m. at the Robb Center.

Registration is required

. More info.

Worth a read: The latest post on the Andover Center for History and Culture's "History Buzz" highlights 19th century artist Sarah Hinkley Bradley.
Mission Statement: We've added a page to our site that outlines the Mission and Policies of Andover News. It's a work in progress, so let us know if you have comments, suggestion, questions or concerns.
Weather: The National Weather Service has issued a gale warning for coastal areas of Massachusetts from 1 p.m. today through 7 p.m. Thursday. In Andover, that will mean winds of 15 to 25 MPH. There's also 100% chance of rain today, with showers moving in later today. Today's high will be 51. Tonight, rain and wind continues with a low of 31 (compiled from the Weather Channel).
Today's Top Stores
Vision For New Andover High School Takes Shape
A new Andover High School could be 60.5 percent bigger than the existing school and accommodate up to 1,900 students, according to preliminary estimates reviewed earlier this month by the building committee.


Cheat Sheet: Andover Special Town Meeting
Our cheat sheet has everything you need to know about Andover special town meeting on Dec. 1, including background information and details on how to participate, including information on registration, child care during town meeting and parking.


Happening today:
Important note for Andover News readers
Beginning Jan. 1, 2023, Andover News will become a paid subscriber service.
Non-subscribers will still have access to our daily newsletter and much of our content
, but exclusive content, including our meeting coverage and original reporting, will live behind a paywall.
We're doing this to cover our costs and to make sure we can continue to grow and provide the same level of coverage of all things Andover. We'll also be using $1 from each subscription to provide complimentary subscriptions to Andover nonprofits and residents who are facing financial hardship.
The subscription rate will be $7 per month, but you can lock in a reduced rate if you sign up by Dec. 31:

Send us your news tips:
Know about a person or group doing something interesting in Andover?
An issue we should be covering? Have a press release for us to consider?
Submit a news tip today!
Thanks for reading. See you soon!