Welcome to the new format for the Sunday newsletter from Andover News. Beginning this week, we're combining the ICYMI: Andover Week In Review we used to send on Saturdays with This Week In Andover listing of upcoming events in town we send on Sundays.
ICYMI: This Week's Top Stories
Andover, School Committee Respond To Fusion Academy Lawsuit
In the town's answer to the complaint, it responded to 123 of the 132 paragraphs in Fusion's complaint with "The defendant is without knowledge or information sufficient to form a belief as to the truth of the allegations contained" in the paragraph. The school committee's response gave the same answer to 62 of the 132 paragraphs in the complaint.


Think Andover Utility Bills Are Bad Now? Wait Until Nov. 1
Rates proposed by Andover's natural gas provider would increase the average Andover customer's bill by 25 percent when compared to last winter.


ICYMI: Local Government
Andover Considering Special Town Meeting For Added School Project Costs
Supply chain issues and inflation have forced the cutbacks on some features of the new West Elementary School, which is scheduled to open in time for the 2024-25 school year.


Rep. Nguyen Schedules Upcoming Office Hours For Constituents
Drop in at Tram Nguyen's upcoming office hours, or schedule a time for a virtual visit with the state rep who serves precincts 1, 5, 6, 7, 8 and 9 in Andover and parts of Boxford, North Andover and Tewksbury.


Select Board Will Check Town Borders On Andover Day
Massachusetts state law requires at least two selectmen to locate and mark town boundaries every five years and record the proceedings with the town clerk. The law dates back to an earlier era, when boundaries were more fluid.


ICYMI: Schools
APS Rolls Out New Elementary Math Curriculum
Andover Public Schools has scheduled a series of workshops to introduce Eureka Math Squared, the district's new elementary school math curriculum, to families.


Detention Is Back At Andover High School
While many of the changes in the Andover High School handbook simply updated dates for the 2022-23 school year, there were policy changes around peer mediation, grading, weighting of exams and locker assignments.


ICYMI: Around Town
Andover Health Offering Flu Shots In October
Check your calendar and roll up your sleeve: the Andover Health Division will be offering three flu shot clinics next month.


This Week In Andover, Sept. 25-Oct. 2: Fall Book Sale!
Here's the Andover News weekly rundown of government meetings, sporting events and activities happening in Andover.

Send us details of your event

for inclusion in the Andover News Calendar.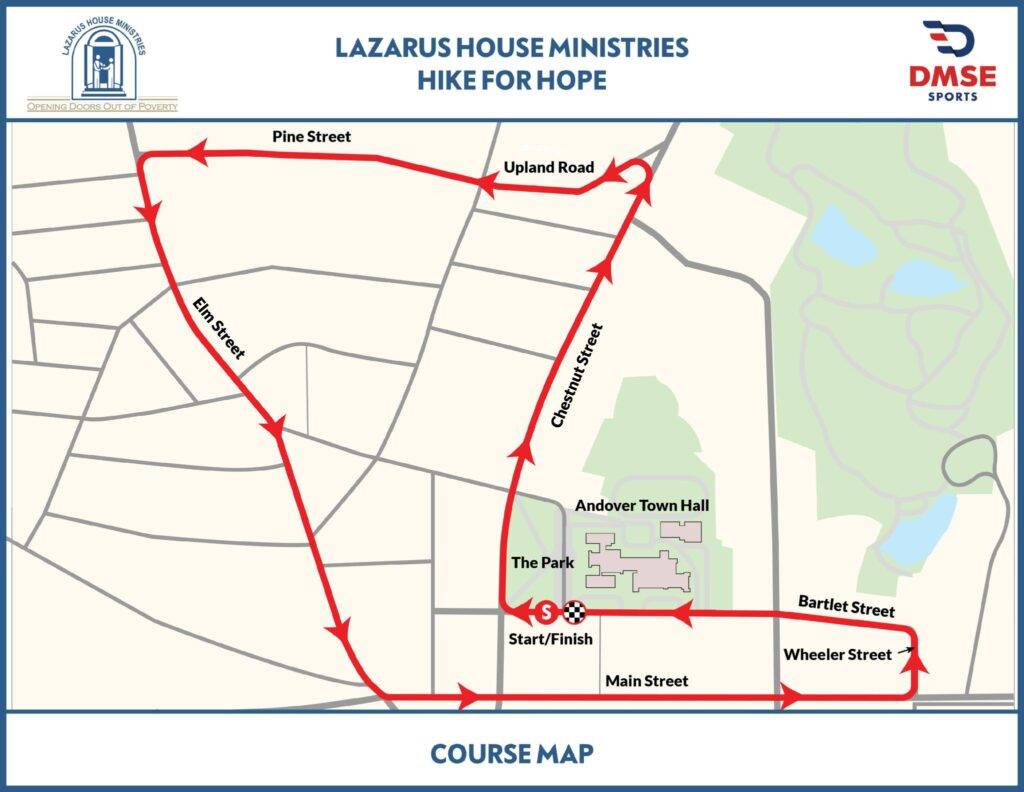 Pick of the Week: Lazarus House

Hike For Hope and Food Drive
Sunday, 11:30 am at The Park In Andover
The 23rd Annual Hike for Hope will help feed our community one step at a time. As of Friday, the fundraiser was 85 percent to its goal of raising $150,000. See the map above for routes and road closures, which will be in place from 12:30 to 1:30 p.m. on Sunday.


SUNDAY, SEPTEMBER 25
Things To Do
11:30 am: Lazarus House

Hike For Hope and Food Drive


4 pm: Ukulele Jam, Faith Lutheran Church (360 S Main Street). Bring your ukulele (or guitar or banjo or mandolin or just yourself) and jam with us as we sing some tunes we love to sing! All skill levels are welcome.


Sports
TBD AHS girls swimming at Haverhill


Sports
5 pm: AHS girls volleyball at North Andover
6:30 pm: Sutton at AHS field hockey


Sports
5:30 pm: AHS girls soccer at Chelmsford
6:30 pm: Haverhill at AHS boys soccer


Sports
3:15 pm: AHS golf vs. Central Catholic at Renaissance Golf Club
4 pm: AHS field hockey at North Andover
5 pm: Methuen at AHS girls volleyball


Sports
6 pm: Newton North at AHS boys soccer


Sports
3:15 pm: AHS golf vs. Haverhll at Bradford Country Club
3:30 pm: AHS girls swimming at Lowell
3:45 pm: AHS field hockey at Tewksbury
5pm: Central Catholic at AHS girls volleyball
7 pm: Central Catholic at AHS football


Sports
6 pm: Acton-Boxborough at AHS girls soccer