Good morning, Andover! Here's our daily rundown of everything happening in town for Monday, Sept. 26, courtesy of Andover News.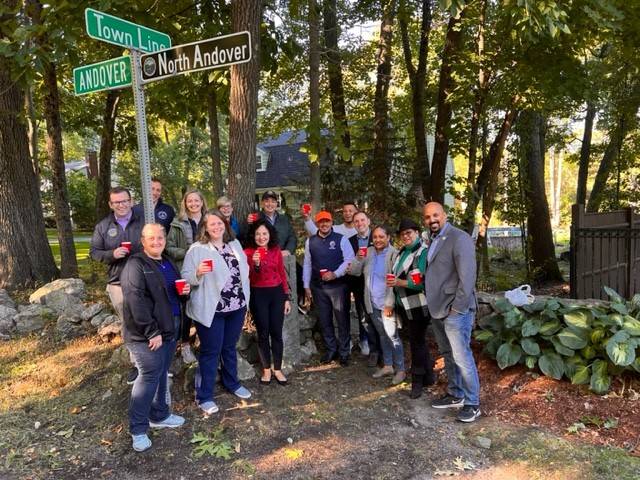 Officials from Andover, Lawrence and North Andover gathered where the three towns meet Saturday morning for a perambulation ceremony. Massachusetts state law requires at least two select board members to locate and mark town boundaries every five years and record the proceedings with the town clerk. Photo courtesy of Alex Vispoli, Andover Select Board.
JUST IN: There was a rollover crash in front of Cafe Nerro on Main Street reported around 4:24 p.m. Sunday. Two people were trapped in the vehicle and ambulances were called to the scene. Other details, including injuries, were not available as of 7:30 a.m. Monday.


Sports: Emma Reilly and Bella DiFiore scored two goals each as AHS field hockey (5-1) picked up a 4-0 non-league win in Shrewsbury Saturday. Adelaide Weeden had eight saves in the shutout.


Weather: Partly cloudy with a slight chance of a shower. High of 73. Tonight, look for mostly clear skies and a low of 53.
Today's Top Stories
Andover Looks For Seal That Meets Everyone's Approval
Last fall, Andover joined several other Massachusetts towns that have reconsidered Native American imagery on their town seals when the select board appointed a Town Seal Review Committee to reevaluate the seal Andover has used since 1951.


West El School Project May Need Additional $19 Million From Special Town Meeting
The committee will ask the Andover Select Board to open a special town meeting warrant at Monday night's select board meeting to fund the cost overruns, which are estimated at 14 percent above budget.


Watch: Dogs of Andover Days 2022
Happening today:
Sports
5 pm: AHS girls volleyball at North Andover
6:30 pm: Sutton at AHS field hockey


Sports
5:30 pm: AHS girls soccer at Chelmsford
6:30 pm: Haverhill at AHS boys soccer


Send us your news tips:
Know about a person or group doing something interesting in Andover?
An issue we should be covering? Have a press release for us to consider?
Submit a news tip today!
Thanks for reading. See you soon!