Good morning, Andover! Here's your daily rundown of everything happening in town for Monday, Jan. 16, courtesy of Andover News.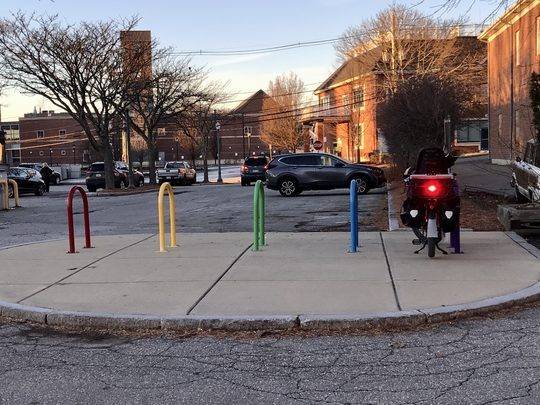 Above: Rainbow bike racks at Memorial Hall Library. WalkBikeAndover is looking for Andover residents to submit photos of something around town that makes walking, biking or rolling safer or more accessible, or a photo of a trip shifted to a non-car mode of transportation. Email your submissions.
A.M. Briefing
Today is Martin Luther King Day and Andover Service Day. Schools, Memorial Hall Library and government offices are closed (more info).
Trash and recycling pickup will be delayed one day this week (Monday pickup on Tuesday, Tuesday on Wednesday, etc.).
- Compiled by Dave Copeland
Today's Top Stories
Replacing Andover High 'Will Not Be An Easy Process'
Replacing Andover High School with a new building could cost upwards of $162 million, based on average public high school construction costs in Massachusetts.
Andover Service Day Encourages Residents To Make MLK Day A "Day On"
Andover Service Day gives residents a chance to take a "day on" instead of a day off on Martin Luther King Day by organizing a range of volunteer efforts in town.


MLK Day 2023: What's Open, Closed In Andover
Martin Luther King Day will be observed on Monday, Jan. 16 this year. Here's a list of what's open and closed on the holiday.


Happening today:
Trash and recycling collection delayed one day this week (Monday on Tuesday, Tuesday on Wednesday, etc.)
Holidays/Seasonal
Andover Service Day
8:30 am: Merrimack Valley NAACP MLK Day Breakfast at Doubletree Boston/Andover Call 508-451-3778 or 978-853-4666 for more info.
Sports
1:20 pm: AHS
girls
hockey vs. Chelmsford (Breakaway Ice
Center)
3:30
pm: AHS
boys
hockey vs. Chelmsford (Breakaway Ice Center
Sports
6:30 pm: AHS
girls
basketball at Billerica
6:30 pm: Lawrence at AHS
boys
basketball
What You Need To Know About The Andover News Paywall
If you purchased or were gifted a presale subscription, you will receive instructions (if you haven't already) for setting your password and logging into your account.


There are three ways to access content on Andover News:

A

subscription

for $79/year gives you full access to everything on Andover News.
You can

register

and view three articles per month on our site.
You can view one article per month without registering.
All users will continue to receive our daily

newsletter.


Send us your news tips:
Know about a person or group doing something interesting in Andover?
An issue we should be covering? Have a press release for us to consider?
Submit a news tip today!
Thanks for reading. See you soon!