Good morning, Andover! Here's your daily rundown of everything happening in town for Friday, Jan. 13, courtesy of Andover News.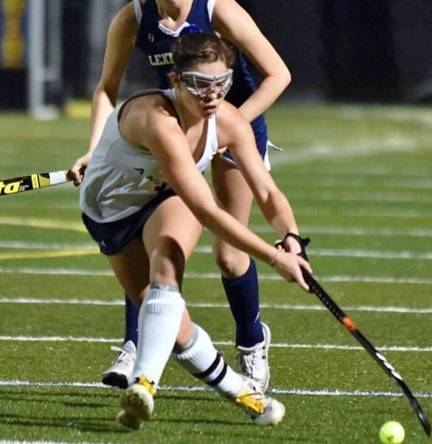 Above: Andover High School senior Emma Riley was named to Max Field Hockey's all New England team. Reilly scored 17 goals and 21 assists for Andover as it won its second-straight state title in field hockey. Reilly, who is off to Columbia next year, was also named Merrimack Valley Conference player of the year. Shea Freda, a junior at Phillips Academy Andover, was named to the second team.
A.M. Briefing
Thanks to everyone who attended publisher's office hours yesterday: we had a great, freewheeling discussion that hit, among other topics, elder services, arts and culture, affordable housing and the pros and cons of open town meeting in Andover. As mentioned, I plan to do this monthly at different times and locations around town. Next month's office hours will be on Friday, Feb. 17 from 2-4 p.m. at a location TBD.
Sports: AHS girls hockey fell to top-ranked St. Mary's 5-0 on Wednesday. Also on Wednesday, Central Catholic topped AHS boys hockey 4-2....Unbeaten Methuen (13-0) narrowly edged AHS wrestling, 42-39...AHS girls gymnastics beat Chelmsford/Billerica 132.4-121.3 on Wednesday....AHS boys indoor track topped Methuen 55-45, while the girls outpaced Methuen 82-18 at the Reggie Lewis Center (compiled from Boston Globe sports and other media reports).


Weather: Cloudy with an 80 percent chance of rain this morning. High of 56. Cloudy tonight, with a low of 30. On Saturday, look for mostly cloudy skies and a high of 37. More of the same on Sunday (Weather Channel).


- Compiled by Dave Copeland
Today's Top Stories
Does Andover Owe You Money?
Andover has more than $8,700 in unclaimed property on its books. Does the town owe you money? Check the list.


Proposed Andover School Budget Would Expand Classroom Coaching
The Andover School Committee heard department budget requests and got insight on a big increase in special education spending for the 2023-34 school year.


Andover Police Log, Jan. 4-10
Check out the calls that Andover Police responded to in this week's police log.


Happening today:
Sports
3:30 pm: AHS boys swimming vs. Haverhill
7 pm: AHS girls basketball at Central Catholic


Trash and recycling collection delayed one day this week (Monday on Tuesday, Tuesday on Wednesday, etc.)


Andover Service Day
8:30 am: Merrimack Valley NAACP MLK Day Breakfast at Doubletree Boston/Andover Call 508-451-3778 or 978-853-4666 for more info.


Sports
1:20 pm: AHS girls hockey vs. Chelmsford (Breakaway Ice Center)
3:30 pm: AHS boys hockey vs. Chelmsford (Breakaway Ice Center)
Send us your news tips:
Know about a person or group doing something interesting in Andover?
An issue we should be covering? Have a press release for us to consider?
Submit a news tip today!
Thanks for reading. See you soon!