Good morning, Andover! Here's your daily rundown of everything happening in town for Thursday, Jan. 26, courtesy of Andover News.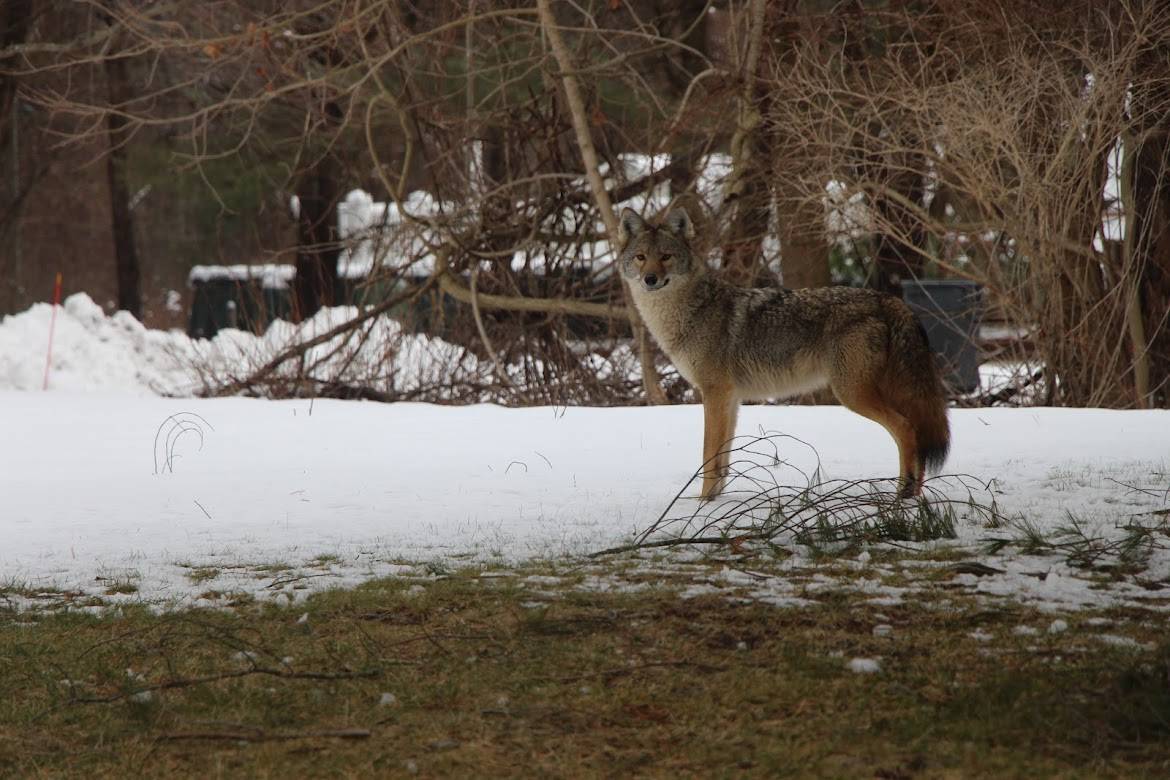 Above: One of two coyotes spotted on Belknap Drive off of South Main Street Wednesday morning. Andover Animal Control says coyote mating season runs from late January until mid-March, peaking in mid-February. You may hear more howling and yips, and its normal to see more coyotes during daylight this time of year. Keep an eye on pets and read Animal Control's Facebook post for more info (Dave Copeland photo).
A.M. Briefing
The February edition of the Robb Center Report from Andover Elder Services in now available online.
Andover residents can help DPW workers by keeping storm drains and catch basins around their home clear of snow and debris, and by reporting clogs to the DPW (more info).
Along those lines, you can assist the Andover Fire Department this winter by shoveling a three-foot radius around fire hydrants near your home.
Sports: AHS girls hockey (7-2-2) was ranked eighth in the state in the Boston Globe rankings released Wednesday....In basketball, Marisa Kobelski had 19 points and Anna Foley added 13 as the Warriors (12-0) rolled past North Andover, 66-49 on Tuesday. Meanwhile, the boys 62-42 on the road in North Andover Tuesday

(compiled from

Boston Globe sports

,

AHS Athletic Departmen

t and other media reports).




Weather:
Rain ending this morning with partly cloudy skies this afternoon. High of 46. A few clouds tonight with a low of 26. Our next chance of snow is next Wednesday or Thursday, according to the extend forecast. Check here for the latest Andover forecast.
- Compiled by Dave Copeland
Today's Top Stories
Thieves Hit Garages In Shawsheen Heights
Among the items stolen from the garages and cars parked in them were a set of golf clubs, a champagne bottle and some loose change.


Andover Police Log: Jan. 18-24
Selected entries from the Andover Police Department's public log for Jan. 18-24, 2023.


Andover Residency Requirement Heads To Town Meeting
The residency requirement dates to the adoption of the town charter in the 1950s and requires anyone hired as town manager to live in Andover.


Happening today:
Sports
6:30 pm: AHS boys basketball at Methuen
7:10 pm: AHS boys hockey vs. Shrewsbury (Brekaway Ice Center)


Sports
3:30 pm: AHS boys swimming at Chelmsford
7 pm: Methuen at AHS girls basketball
Send us your news tips:
Know about a person or group doing something interesting in Andover?
An issue we should be covering? Have a press release for us to consider?
Submit a news tip today!
Thanks for reading. See you soon!