Bundle up, Andover! Here's your daily rundown of everything happening in town for Friday, Feb. 3, courtesy of Andover News.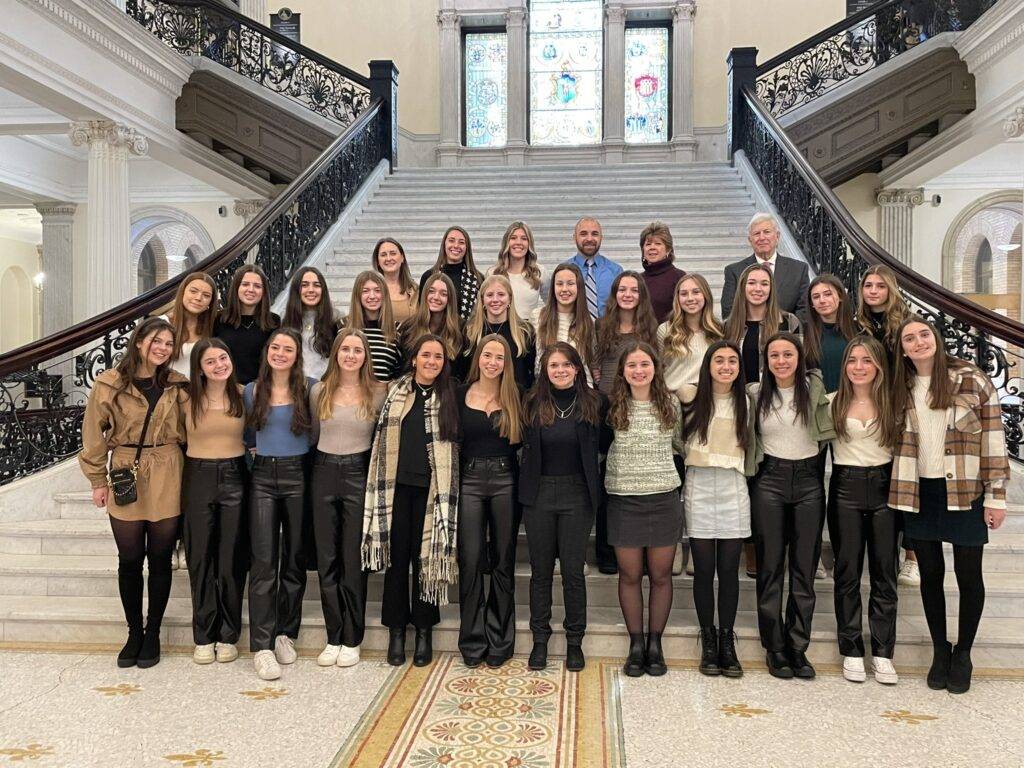 Above: The state champion Andover High School field hockey team toured the state house this week (Photo: AHS Assistant Field Hockey Coach Coach Beauchesne/Twitter) The team was invited by Andover's state delegation. More photos on state Rep. Tram Nguyen's Twitter page.
A.M. Briefing
It's dangerously cold today. There is a wind-chill warning in effect through 1 p.m. tomorrow, with the coldest weather tonight (more details in "Weather," below). Check the Town of Andover's Storm Information Center and Andover News for updates as they become available. If you have pets, Andover Animal Control has tips for keeping them safe during the cold snap. MORE COVERAGE.
J.P. Licks in Andover is looking for a visiting artist, who can show and sell their art -- commission free -- for four months (more info).
Ends tomorrow: Get a 10 percent discount on new, one-year and family plan subscriptions. Enter the code WINTER at check-out to get 10% off the regular annual subscription price. Offer expires Saturday, Feb. 4.
Sports:
Central Catholic eked out a 39-34 win over AHS wrestling Wednesday...The AHS girls basketball team (14-0) remained #1 in the Boston Globe rankings released Thursday. The Warriors host Central Catholic at 7 p.m. tonight
(compiled from
Boston Globe sports
,
AHS Athletic Departmen
t and other media reports).
Weather: Dangerously cold with a high of just 18 and a low of -8. Winds in the high teens/low 20s with the potential for gusts up to 30 MPH. The wind chill warning will be in effect until 1 p.m.tomorrow. Wind chills could go as low as -30, with the coldest weather tonight. MORE COVERAGE.


- Compiled by Dave Copeland
Today's Top Stories
Andover Braces For Bitter Cold
Andover Public Schools was urging families to drive kids to school, and the town was monitoring the cold snap in case it needs to set up warming shelters.


Downtown Business Closes - For Now
A specialty food store born in the heart of the coronavirus pandemic in downtown Andover has closed, but hopes to reopen in a new location.


Lawrence Man Accused Of Andover Car Break-Ins
Andover police believe the 25-year-old acted alone in a string of reported garage and car break-ins in recent weeks.


Happening today:
Government
10 pm: Office Hours with State Rep. Tram Nguyen


Sports
7 pm: Central Catholic at AHS girls basketball
7 pm: AHS boys basketball at Central Catholic


Other events:
5 pm:

St. Augustine Church's mass to celebrate Father Art Johnson's 60 years as a priest.


Sports
9 am: AHS wrestling at Haverhill
5:20 pm: AHS boys hockey vs. Central Catholic (Breakaway Ice Center)


Sports
5 pm: AHS girls gymnastics vs. Lowell (Shriners Auditorium)


Send us your news tips:
Know about a person or group doing something interesting in Andover?
An issue we should be covering? Have a press release for us to consider?
Submit a news tip today!
Thanks for reading. See you soon!