Good morning, Andover! Here's your daily rundown of everything happening in town for Saturday, Feb. 4, courtesy of Andover News.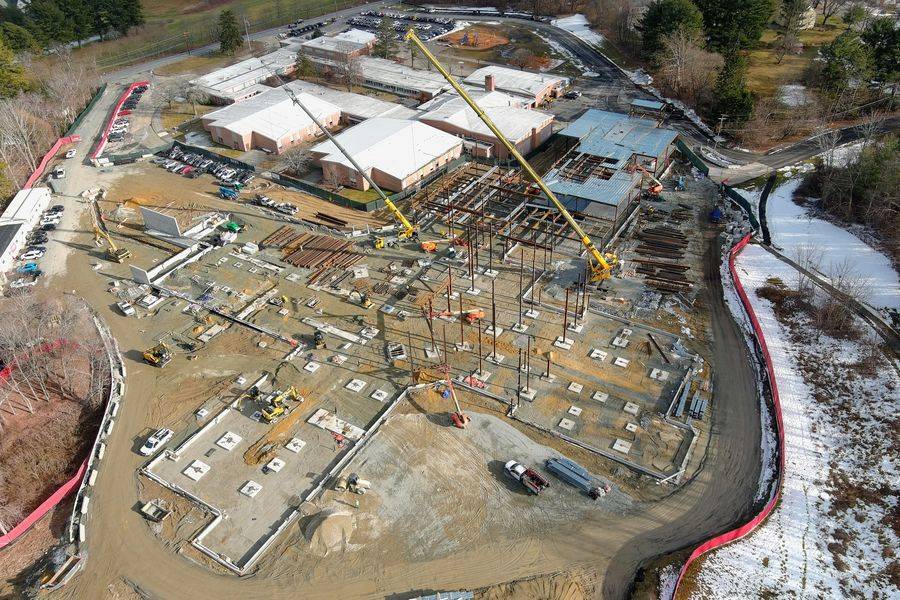 Above: Structural steel rises at the West Elementary & Shawsheen Preschool Building Project. (Photo: Town of Andover/Facebook).
A.M. Briefing
Thanks for everyone's patience as I resolved the ongoing sign-in issue yesterday. I believe everything is working properly, but please let me know if you continue to experience issues.
ENDS AT MIDNIGHT! Get a 10 percent discount on new, one-year and family plan subscriptions. Enter the code WINTER at check-out to get 10% off the regular annual subscription price. Offer expires TONIGHT.
Sports:
AHS boys' hockey beat Westford 4-3 on Thursday...In indoor track, the AHS' boys fell 70-30 to North Andover, while the girls ran past Lowell, 57.5-42.5...AHS boys swimming placed fourth in Thursday's Merrimack Valley Conference Championships, which was won by Chelmsford
(compiled from
Boston Globe sports
,
AHS Athletic Departmen
t and other media reports).
Weather:
The worst of the cold is over as winds die down, but you should still use caution when you head outside today: the high will only reach 17 under mostly sunny skies. The day will start with "real feel" temperatures of -28. The real feel temp will not break out of the mid-single digits on Saturday.
- Compiled by Dave Copeland
Today's Top Stories
Andover Town Manager Proposes $234.8M Budget
The budget is going up 3.6%, while the average Andover single-family tax bill will go up 5.7%.


Andover Cultural Council Awards $12,600 In Grants
The grants total $12,600 and will fund events being held in Andover during 2023.


Downtown Business Closes - For Now
A specialty food store born in the heart of the coronavirus pandemic in downtown Andover has closed, but hopes to reopen in a new location.


Happening today:
Sports
9 am: AHS wrestling at Haverhill
5:20 pm: AHS boys hockey vs. Central Catholic (Breakaway Ice Center)


Sports
5 pm: AHS girls gymnastics vs. Lowell (Shriners Auditorium)


Sports
3:30 pm: AHS girls' skiing vs. North Andover at Bradford Ski Hill
Send us your news tips:
Know about a person or group doing something interesting in Andover?
An issue we should be covering? Have a press release for us to consider?
Submit a news tip today!
Thanks for reading. See you soon!