Here's your daily rundown of everything happening in town for Friday, Feb. 10, courtesy of Andover News.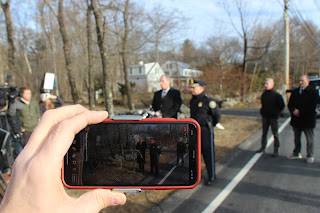 Above: News media from across Massachusetts descended on Porter Road to hear an update from Essex County District Attorney Paul Tucker and Andover Police Chief Patrick Keefe speak at a news conference after 56-year-old Andrew Robinson shot and killed his wife and son before killing himself (Dave Copeland photo).
A.M. Briefing
Andover Public Schools has counselors available for students and staff who are having trouble coping with yesterday's double murder-suicide on Porter Road. "We recognize the Andover community may have known the victims and this news may be difficult for our students and staff," Superintendent Magda Parvey said in a note to families Thursday. "We encourage anyone who needs assistance as a result of today's tragedy to reach out to a counselor or social worker in the coming days."

If you or someone you know needs help, call 9-8-8 or the National Suicide Prevention hotline at 1-800-273-8255. You can also reach the Crisis Text Line by texting 'Home' to 741741 anytime.
Weather:
Sunny and windy, with gusts up to 40 mph today. High of 56. Some clouds tonight, with a low of 32. Sunny, cooler on Saturday with a high of 42. Mostly cloudy Sunday, high of 50.
Check here for the latest Andover forecast.
- Compiled by Dave Copeland
Today's Top Stories
12-Year-Old Killed In Andover Murder-Suicide Was A 'Gentle Soul'
A 56-year-old man shot and killed his 55-year-old wife and 12-year-old son before taking his own life at a home in Andover.


Free Tax Prep For Andover Residents, By Andover Residents
While the program targets seniors and low-income earned, the group does not impose tax limits but avoids doing complex tax returns.


Happening today:
Sports
5 pm: AHS boys' and girls' indoor track at Merrimack Valley Conference Championship Meet (New Balance Track)
6:30 pm: AHS boys' basketball at Billerica
7 pm: Lawrence at AHS girls' basketball


Sports
TBD: AHS boys' swimming at MIAA Sectionals
5:40 pm: AHS boys' hockey at Chelmsford
8 pm: AHS girls' hockey at Chelmsford


Send us your news tips:
Know about a person or group doing something interesting in Andover?
An issue we should be covering? Have a press release for us to consider?
Submit a news tip today!
Thanks for reading. See you soon!