Good morning, Andover! Here's your daily rundown of everything happening in town for Thursday, Feb. 16, courtesy of Andover News.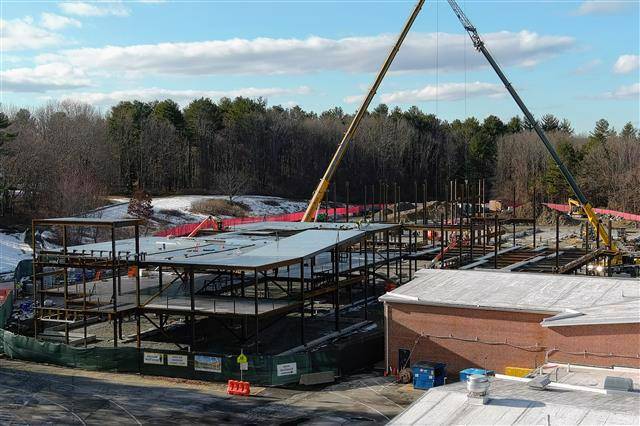 Above: The new West Elementary School and Shawsheen Preschool continues to rise. Read more about the project in the Bartlett Street Dispatch, the town's new newsletter (Town of Andover photo).
A.M. Briefing
The District Report Cards for Andover Public Schools, its five elementary schools, three middle schools and Andover High School have been released. You can view all the report cards. "The report card includes multiple measures of a school's performance – more than just MCAS scores,"

South Elementary Principal Brenda Lee said in a note to parents Tuesday

. "It represents a new way of looking at school performance by providing information on student achievements, teacher qualifications, student learning opportunities, and more."
Weather:
Mostly cloudy, high of 61. Slight (24%) chance of a rain shower this afternoon. Light rain early tonight and showers late. Low of 47. Rain continues on Friday.
Check here for the latest Andover forecast.
- Compiled by Dave Copeland
Today's Top Stories
Andover Schools Spared Hoax Calls - 'So Far'
The so-called "swatting hoax" has become increasingly popular and aimed at bringing a large, armed response to schools.
MBTA Rules Could Create 2,301 Affordable Units In Andover: Select Board Notebook
Also: Board begins work on Town Meeting warrant | Restaurant gets liquor license extension | More
Select Board Presses For AHS Cost Estimates
Select board candidate Kevin Coffey also pressed the Andover High School Building Committee to put preliminary cost numbers on the table.
Investigators Search For Answers In Andover Killings
A funeral mass has been scheduled for Linda and Sebastian Robinson at 10 a.m. Saturday at St. John's in Danvers, where Sebastian was a sixth grader.
Happening today:
Sports
6:30 pm: Billerica at AHS girls' basketball


Sports
4:30 pm: AHS boys' and girls' indoor track vs. TBA (Reggie Lewis Center)
7:10 pm: Masconomet at AHS boys' hockey (Breakaway Ice Center)


Send us your news tips:
Know about a person or group doing something interesting in Andover?
An issue we should be covering? Have a press release for us to consider?
Submit a news tip today!
Thanks for reading. See you soon!