Good morning, Andover! Here's your daily rundown of everything happening in town for Friday, Feb. 17, courtesy of Andover News.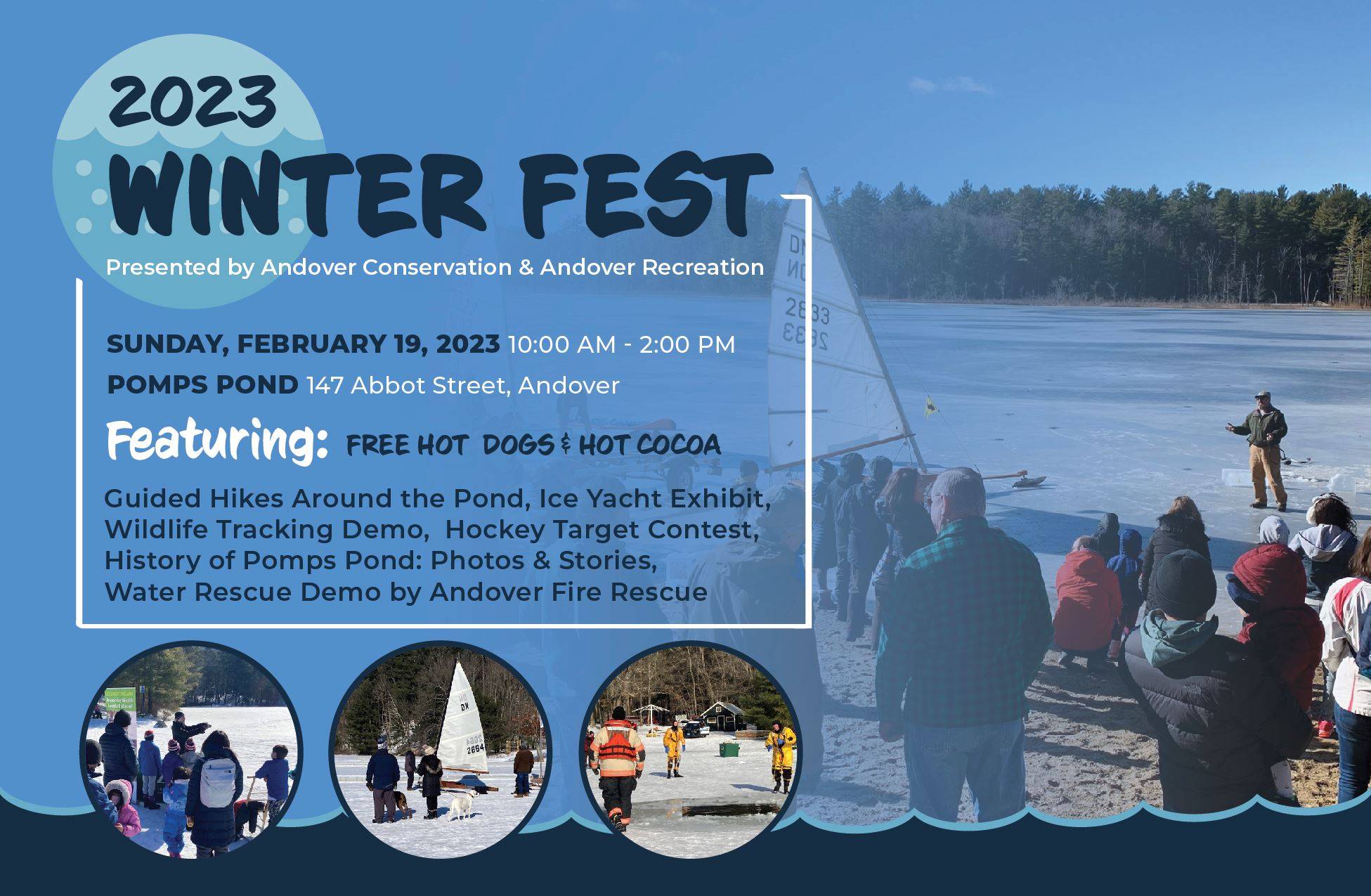 Above: Andover Conservation and Andover Recreation's 2023 Winter Fest will be held Sunday from 10 a.m. to 2 p.m. at Pomps Pond (147 Abbot Street) even if the weather will be less than winter-like. Stop by for guided hikes, a hockey target contest, photos, stories, hot dogs, hot cocoa and more (more info).
A.M. Briefing
Two things to know today:
Sports:
AHS girls' basketball (18-0) stayed atop the Boston Globe's rankings released Thursday. Weekend holiday tournaments are expected to shake up the Top 20 rankings...Eighth-ranked AHS girls' hockey (12-3-2) fell 8-4 to 17th-ranked, visiting St. John's of Shrewsbury(9-9-1) in a non-league game Wednesday

(compiled from

Boston Globe sports

,

AHS Athletic Departmen

t and other media reports).
Weather:
High of 55 with an 83% chance of rain today. Expect up to a half-inch of accumulation. Tonight, low of 19, winds up to 20 MPH, and a 40% snow showers before midnight. Sun returns tomorrow with a high of 41. Mostly cloudy but warmer on Sunday with a high of 49. Rain on President's Day, high of 53.
Check here for the latest Andover forecast.
- Compiled by Dave Copeland
Today's Top Stories
Andover Woman Accused Of Driving Wrong Way On I-93
New Hampshire State Police arrested a 31-year-old Andover woman Wednesday for driving north on the southbound side of Interstate 93 through Salem and Windham, NH.


Andover Police Log, Feb. 8-15
Three masked men stealing liquor, reports of tires and rims being stolen, and more in this week's Andover police log.
Andover Schools Spared Hoax Calls - 'So Far'
The so-called "swatting hoax" has become increasingly popular and aimed at bringing a large, armed response to schools.


Happening today:
Sports
4:30 pm: AHS boys' and girls' indoor track vs. TBA (Reggie Lewis Center)
7:10 pm: Masconomet at AHS boys' hockey (Breakaway Ice Center)


Sports
TBD: AHS boys' swimming at MIAA All-State Meet
12:30 pm: AHS girls' basketball vs. TBA (Woburn holiday tournament)


Sports
TBD: AHS girls' basketball vs. TBA
(Woburn holiday tournament)
5 pm: AHS boys' hockey vs. TBA (Newburyport holiday tournament)
6:20 pm: Reading at AHS girls' hockey (Breakaway Ice Center)


Send us your news tips:
Know about a person or group doing something interesting in Andover?
An issue we should be covering? Have a press release for us to consider?
Submit a news tip today!
Thanks for reading. See you soon!