Good morning, Andover! Here's your daily rundown of everything happening in town for Monday, Dec. 12, courtesy of Andover News.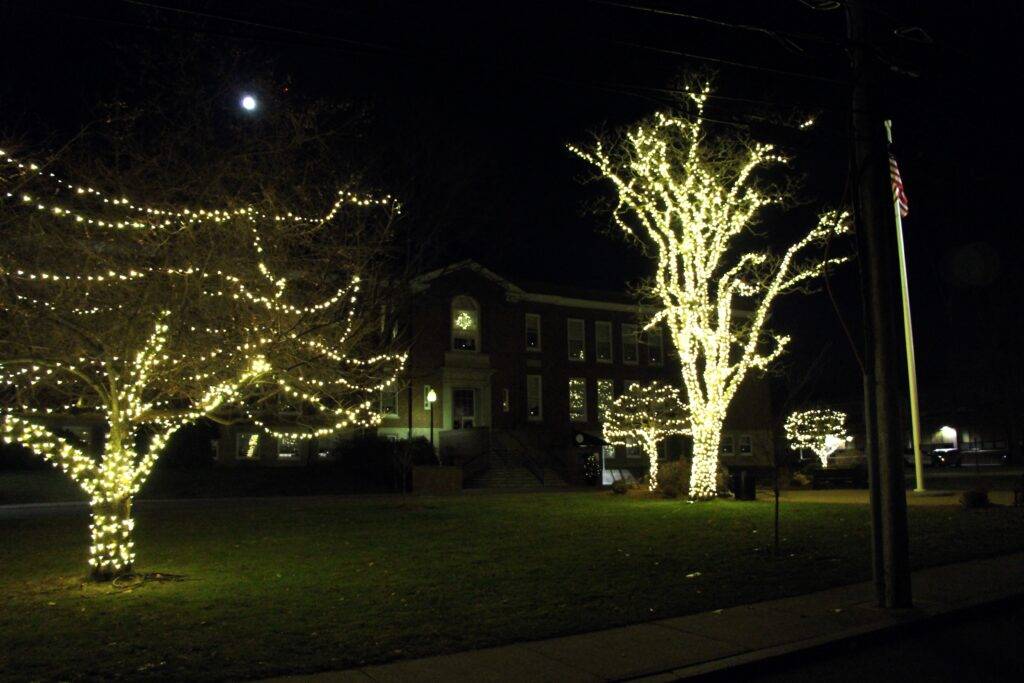 Above: Andover Town Offices were lit up Friday night as the town celebrated Holiday Happenings 2022 (Dave Copeland).
A.M. Briefing
There will be water main work on North Main Street between 8 p.m. and 5 a.m. tonight and tomorrow night. The work will require shutdowns for 161, 163, 165, 167, 168, 173 and 175 North Main Street between 10 p.m. and 5 a.m. Drivers should expect delays and detours.
The Andover Health Division is holding one more flu shot clinic from 2 p.m. to 5:30 p.m. on Thursday. Click here to register.
Sports: AHS girls gymnastics started its season with a 140.5-127.7 win over Methuen Sunday...On Saturday, AHS girls basketball beat Winthrop, 471-9 (compiled from Boston Globe and other media reports).


Weather: Scattered flurries and snow showers could continue this morning. Sunny later today, with a high near 35. Clear skies tonight, with a low of 21 (compiled from the Weather Channel).


Support independent journalism in Andover: Lock in 29 percent off the Andover News subscription rate when you subscribe by Dec. 31.
Today's Top Stories
This Week In Andover: Dec. 11-18
Loads of holiday events and Andover High's winter sports season getting underway highlight's this week's list of events in Andover.


Andover Begins Work On Climate Action Plan
Andover is following up April's Climate Summit with a kickoff for the development of the town's Climate Action and Sustainability Plan on Monday.


Your News On Andover News
As a service to readers, Andover News will publish obituaries as well as engagement, wedding and birth announcements free of charge for Andover residents.


Happening today:
Happening tomorrow:
Holidays/Seasonal
7 pm: Doherty Middle School Winter Concert


Important note for Andover News readers
Beginning Jan. 1, 2023, Andover News will become a paid subscriber service.
Non-subscribers will still have access to our daily newsletter and much of our content
, but exclusive content, including our meeting coverage and original reporting, will live behind a paywall.
We're doing this to cover our costs and to make sure we can continue to grow and provide the same level of coverage of all things Andover. We'll also be using $1 from each subscription to provide complimentary subscriptions to Andover nonprofits and residents who are facing financial hardship.
The subscription rate will be $7 per month, but you can lock in a reduced rate if you sign up by Dec. 31:

Send us your news tips:
Know about a person or group doing something interesting in Andover?
An issue we should be covering? Have a press release for us to consider?
Submit a news tip today!
Thanks for reading. See you soon!