Go vote, Andover! Here's your daily rundown of everything happening in town for Tuesday, March 28, courtesy of Andover News.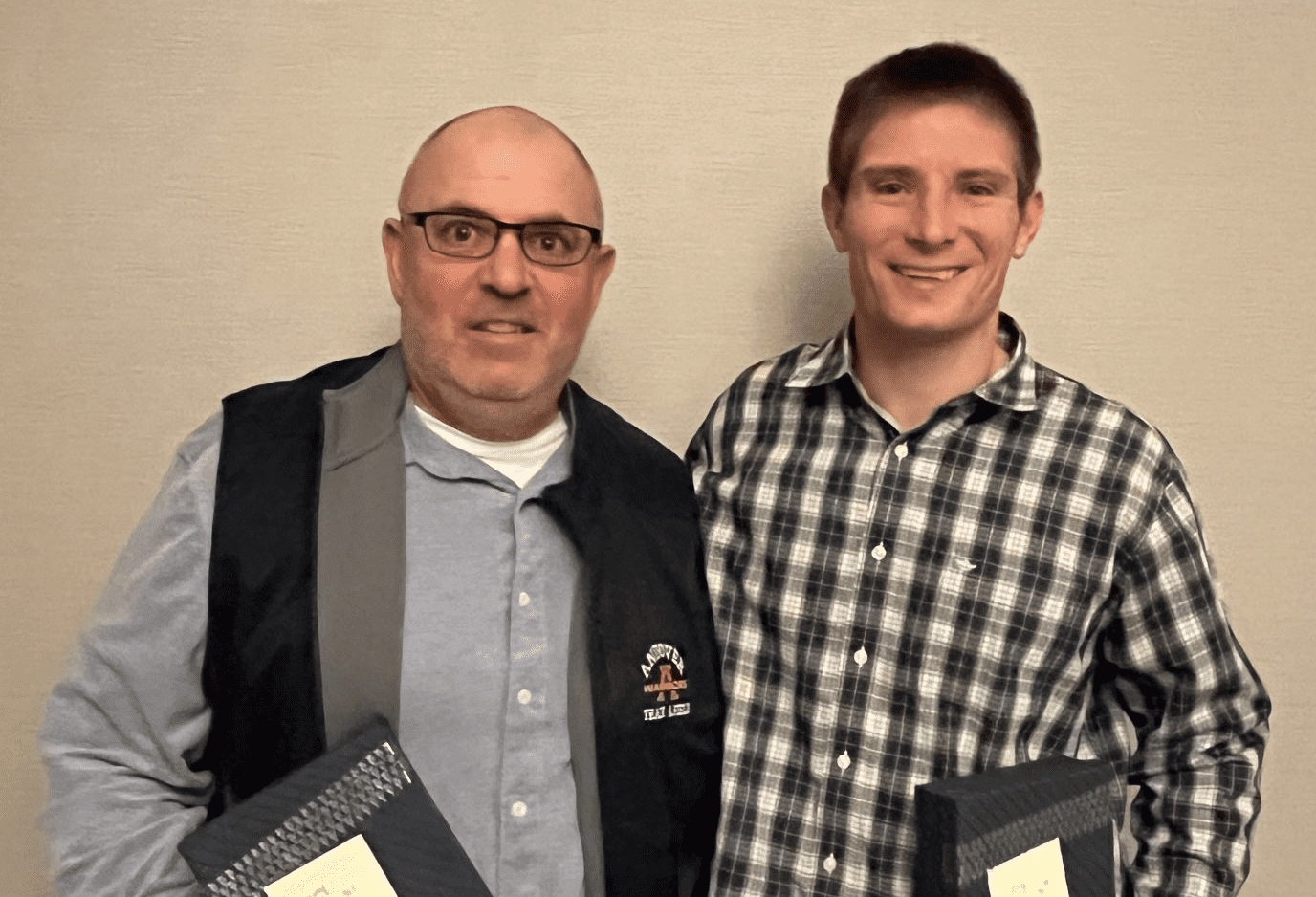 The Massachusetts State Track Coaches Association named Andover girls' indoor track coach Peter Comeau (left) Coach of the Year, along with North Andover boy's coach Jason Guarente (Photo: North Andover Track/Twitter).
A.M. Briefing
Three Things To Know Today
Today is election day in Andover. Get out and vote! Remember, all Andover News election coverage is free for non-subscribers.
The Andover High School Parent Advisory Council is

looking for sponsors

for the annual

Andover High School Senior Safari All-Night Graduation Event. Sponsorships begin at $100 and help off set the student ticket price substance-free party on graduation night for graduating seniors. For more information, email Jennifer Srivastava at

jensrivastava@gmail.com.
Election Day flash sale: Get 15% off Andover News annual and family-plan subscriptions now through March 31 when you enter the code GOINGON at checkout.
Weather: Grab The Umbrella
Cloudy, 50% chance of showers, high of 46. Clearing tonight, low of 31. Sun returns tomorrow.


- Compiled by Dave Copeland
Opinion: Coffey Will Dedicate Himself To Andover
"I support Kevin Coffey because he spends hours of his day listening to residents needs," Ruby Mari Nieves writes.
Andover Election 2023: Voters' Guide
Here's everything you need to know before you vote in the annual Andover Town Election on March 28.


Truck Driver Injured In Andover Rollover
The far right travel lane of Interstate 93 was closed for several hours during rush hour Monday as MassDOT crews cleaned up a fuel spill.


Building Committee Delays AHS Schematic Design
The town is nearing its state-mandated debt limit as the building committee continues its push to build or renovate Andover High School without assistance from the Massachusetts School Building Authority.


Nominations Now Open For Best Of Andover 2023
This is your chance to help us recognize the restaurants and businesses that are the best at what they do in Andover.


Happening today:
Election Day:

Polls open 7 am-8 pm (Voters' Guide)
Andover Elder Services walking hours at Cormier Youth Center canceled for election.


Send us your news tips:
Know about a person or group doing something interesting in Andover?
An issue we should be covering? Have a press release for us to consider?
Submit a news tip today!
Thanks for reading. See you soon!