TGIF, Andover! Here's your daily rundown of everything happening in town for Friday, March 31, courtesy of Andover News.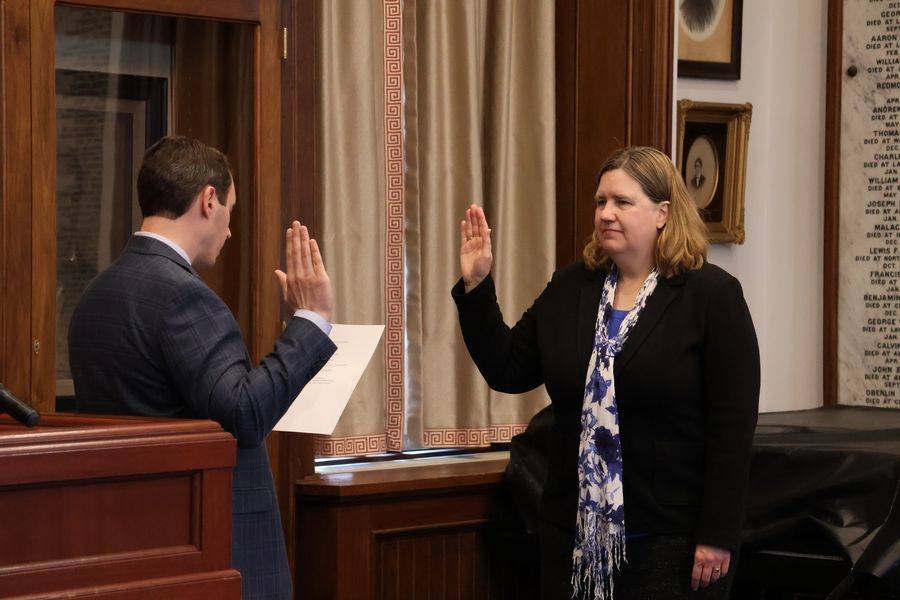 Andover Town Clerk Austin Simko gives select board member Laura Gregory the oath office. All the candidates who won in Tuesday's election were sworn in during a ceremony at Memorial Hall Library on Wednesday (Town of Andover/Facebook).
A.M. Briefing
Four Things To Know Today
Weather: Bundle Up
Today: Partly cloudy this morning, 90 percent chance of rain this afternoon. Periods of rain tonight, low of 40.
Tomorrow: Ninety percent chance of rain, thunder possible. High of 65. Clearing later at night. Low of 34.
Sunday: Sunny, windy, high of 46. Partly cloudy at night, low of 28.
- Compiled by Dave Copeland
Labor Department Rules Against Teachers' Union
The amendment would have added an accusation the Andover School Committee "unilaterally changed its practice of granting leave for bargaining unit members to attend 'union matters'."


Select Board Considers Tax Break For Phillips Property: Notebook
Catch up on everything that happened at this week's Andover Select Board meeting.


Preliminary Estimate For New AHS: ~$500M
The Andover High School Building Committee has stressed for months the preliminary estimates released Thursday were "preliminary"high level," and a more accurate cost estimate would not be finalized until architects complete the more detailed schematic design.


Happening today:
Happening Sunday:
No listings.


Send us your news tips:
Know about a person or group doing something interesting in Andover?
An issue we should be covering? Have a press release for us to consider?
Submit a news tip today!
Thanks for reading. See you soon!