Good morning, Andover! Here's your daily rundown of everything happening in town for Thursday, April 6, courtesy of Andover News.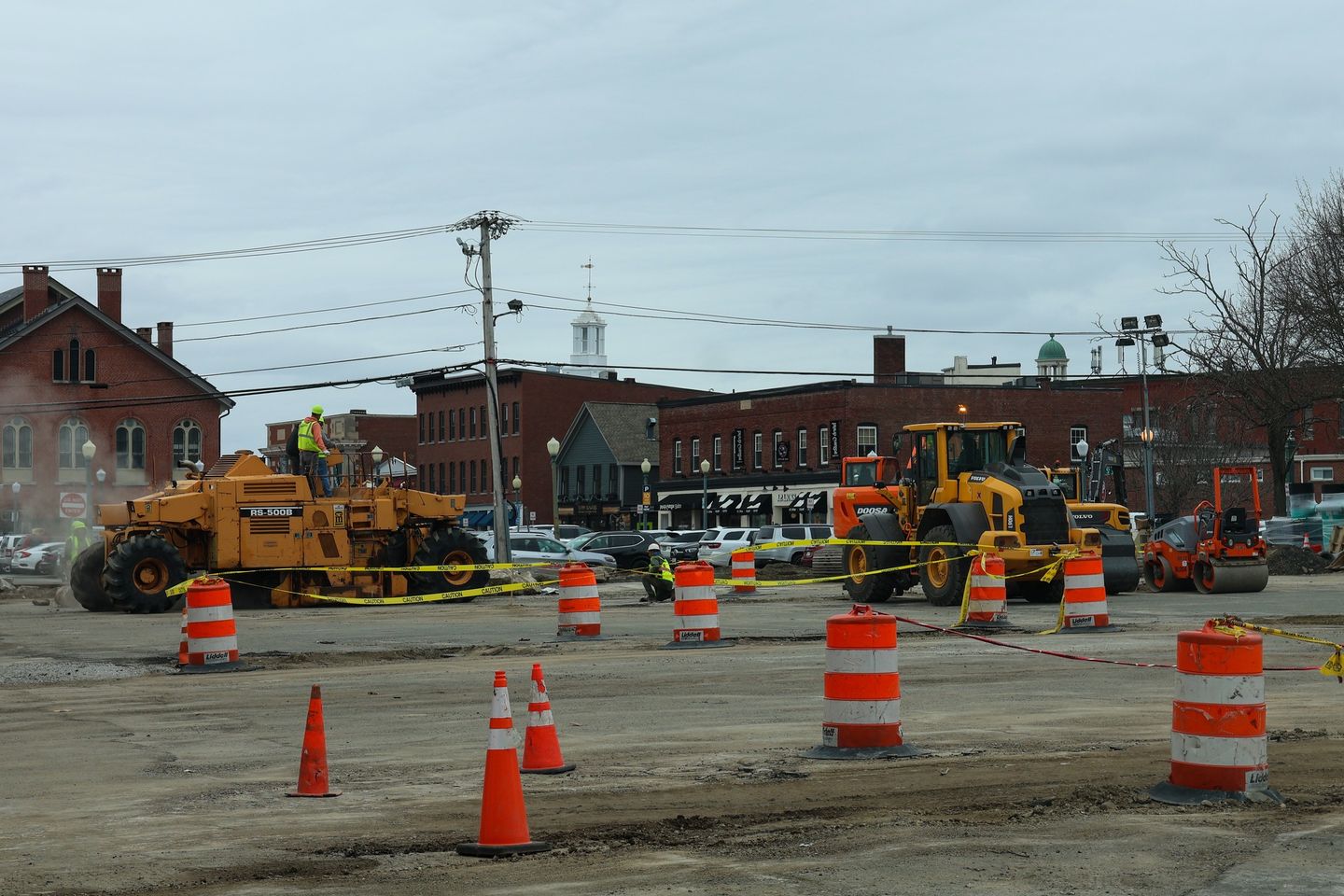 "Parking Lot #2" at the corner of Bartlet and Park streets in Downtown Andover will be closed through April as construction continues on the Downtown Parking Improvement Plan. The town has added additional handicap parking spots and a 15-minute loading zone on Bartlet Street (more info). Photo: Town of Andover/Facebook
Today's Top Story:
Meet The Andover Residents Running The 2023 Boston Marathon
More than 40 Andover residents ranging in age from 19 to 69 are registered to run the 127th B.A.A. Boston Marathon on April 17.


A.M. Briefing
Three Things To Know Today
Following last week's election, the Andover School Committee will have its annual reorganization at tonight's meeting. The committee will choose a new chair and vice chair for the next year.
It's prom season. Tickets for the AHS junior prom at the Atkinson (NH) Country Club on May 6 at 6:30 p.m. will be on sale April 10-13 from 3:05-3:40 p.m. in the school's cafeteria.
Andover DPW has posted information on the annual water main flushing. Find out when your street will be affected.
Sports
Kiernan Florio scored four goals -- including the 100th and 101st of his career -- as AHS boys' lacrosse opened the season with a 10-9 home win against Chelmsford...AHS girls' lacrosse had a tougher time in their season opener, falling 8-1 at Chelmsford.
Junior Isaac Williams (9 kills, 18 service points, 4 aces), senior Alex McNally (8 kills, 5 blocks, 7 service points) and junior Marco Cabo Gomez (21 assists, 5 kills, 4 blocks, and 9 service points) led AHS boys' volleyball to a 3-0 win over Methuen.
Weather: Spring Is Springing
Cloudy this morning and an 80 percent chance of rain this afternoon. Rain showers end this evening, low of 43. Today's high wil be 73 with more on the way -- after a coller weekend, we're looking at highs in the 70s all next week.


Pick of the Day
Dr. Julia DeVoy will trace the current state of textile waste in the United States, its global public health impacts, and associated issues of environmental injustice. Guided by the perspectives of Matilda Lartey, an artisan and environmental activist in Ghana and in dialogue with the audience, she will explore solutions to textile waste and its environmental health effects, including what changes individuals can make to reduce their environmental impact and more importantly the state, national, and international policies that are needed to regulate discarded textiles and contribute to systemic change in the fashion industry.
See the events listing at the bottom of this email for more things to do in Andover today and tomorrow.
- Compiled by Dave Copeland
More local coverage on Andover News:
Andover Police Log, March 29-April 4
Suspected prostitution, kids shooting fireworks at geese, and a driver who drove off the road after spilling coffee on themselves were among the calls Andover police responded to this week.


Read Andover Restaurant Inspection Reports For March
See what the Health Division found when they visited Chateau, Perfecto's, Ultimate Perk, and other popular Andover restaurants last month.


Happening today:
At the Robb Center
10 am: Scale Modeling
10 am: Open Art
10 am: Blood Pressure Clinic
1 pm: Duplicate Bridge
1:30 pm: Parkinson's Support Group
2 pm: Ping-Pong
6:30 pm: Peking and the Mystics
(see the Robb Center newsletter for more info)


Sports
4 pm: Central Catholic at AHS boys' tennis
4:30 pm: AHS girls' tennis at North Andover
5 pm: AHS boys' volleyball at Dracut


Sports
4 pm: Westford Academy at AHS boys' tennis
4 pm: Unified Track: Varsity Meet
4:30 pm: AHS boys' lacrosse at Tewksbury
6:30 pm: Tewksbury at AHS girls' lacrosse


Send us your news tips:
Know about a person or group doing something interesting in Andover?
An issue we should be covering? Have a press release for us to consider?
Submit a news tip today!
Thanks for reading. See you soon!