Good morning, Andover! Here's your daily rundown of everything happening in town for Tuesday, April 11, courtesy of Andover News.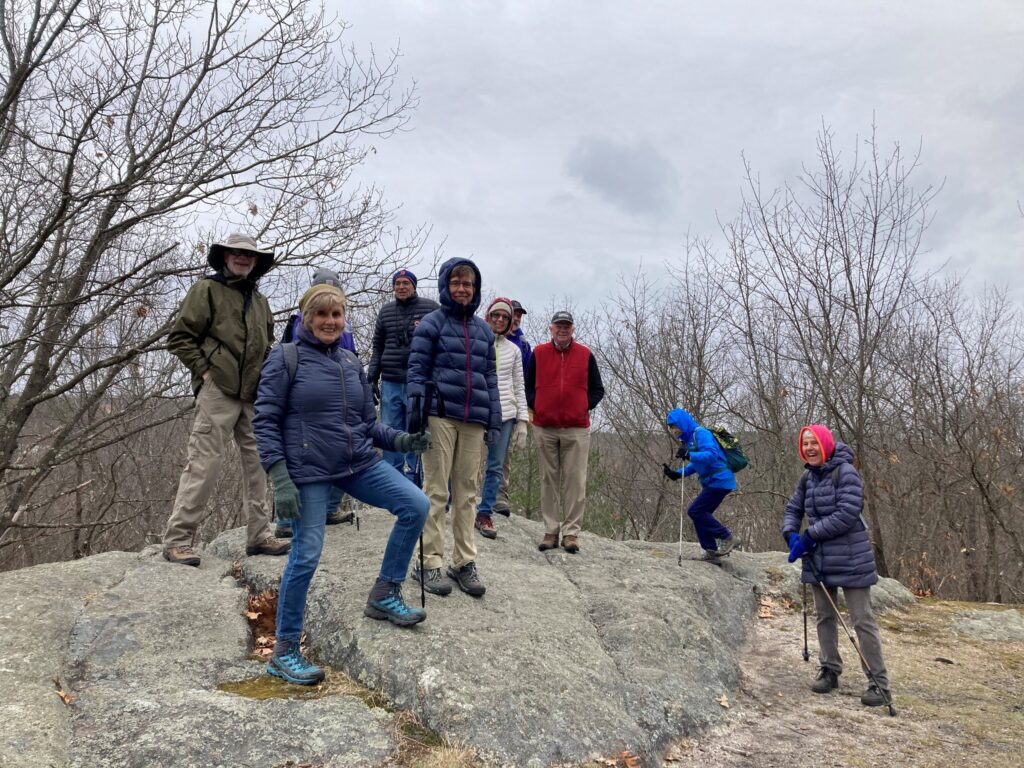 Andover Conservation offers free guided walks on Wednesday mornings to explore Andover's trails and open spaces (more info). Last Wednesday's walk took participants to restricted property connected to the 48-acre Essex County Greenbelt Trust land (Photo: Town of Andover/Facebook).
Today's Top Story
2023 Town Meeting: Capping The Landfill
Andover stopped using the Ledge Road landfill in 1972 but, more than 50 years later, it remains partially uncapped.


A.M. Briefing
Two Things To Know Today
The National Weather Service has issued a fire watch for Andover and the rest of Massachusetts from 10 a.m. until 7 p.m. on Tesda, thanks to a combination of dry conditions and gusty winds.
Andover's spring curbside leaf collection begins April 24th and continues through June 3. Yard waste bags or open barrels can be set out with trash and recycling on your scheduled pickup day (more info).
Sports
Friday: AHS boys' lacrosse beat Tewksbury, 19-5, while the girls topped Tewksbury 18-2. In boys' tennis, the Warriors beat Westford 3-2 in a nonleague contest.
Saturday: North Andover handed AHS boys' volleyball its first loss of the season, 3-2.
Weather: Taste of summer on the way
Partly cloudy this morning, cloudy this afternoon. High of 73. Mostly cloudy tonight, with a low of 53. Looking ahead, Friday's forecast is predicting a high of 86.


Pick of the Day: Say Cheese
Spend an hour with Linda Holt at Memorial Hall Library this evening and get six tips for taking better Smartphone photos. Holt is one of greater Boston's best-known commercial headshot photographers. The program begins at 7 p.m.


See the events listing at the bottom of this email for more things to do in Andover today and tomorrow.
- Compiled by Dave Copeland
More local coverage on Andover News:
School Committee Names New Chair
The new Andover School Committee Chair and Vice Chair will assume their new roles after Town Meeting concludes next month.


School Committee Asks MA To Extend Free Lunch
The Andover School Committee sent a letter to Gov. Maura Healey supporting legislation that would make free school lunches permanently free for public school students in Massachusetts.


Happening today:
Sports


6:30 pm: Central Catholic at AHS girls' lacrosse
6:30 pm: AHS boys' lacrosse at Central Catholic


Sports
4 pm: Haverhill @ AHS baseball
4 pm: Dracut at AHS softball
4 pm: Chelmsford at AHS girls' tennis
4 pm: Central Catholic at AHS boys tennis
4 pm: AHS girls' and boys' track at Methuen
5 pm: AHS boys' volleyball at Lowell


Send us your news tips:
Know about a person or group doing something interesting in Andover?
An issue we should be covering? Have a press release for us to consider?
Submit a news tip today!
Thanks for reading. See you soon!