Good morning, Andover! Here's your daily rundown of everything happening in town for Thursday, March 9, courtesy of Andover News.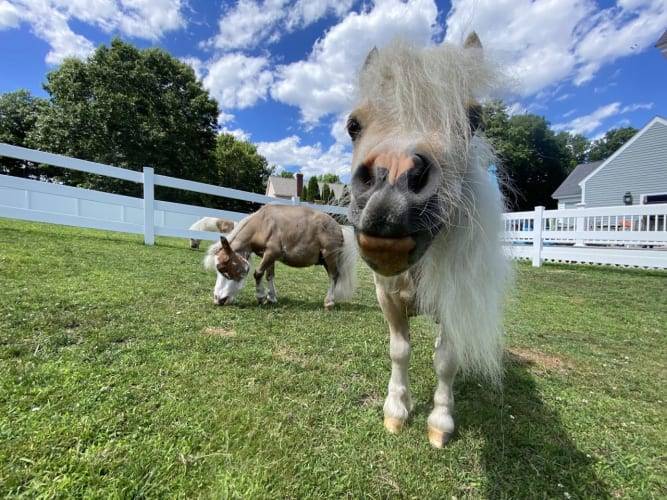 Above: A 23-inch tall, miniature horse from Andover is a finalist to be the next spokesbunny for Cadbury (vote here). Stewie Vuitton, who is one of ten finalists, is a four-year-old therapy horse who was rescued from an Ohio Auction in 2021 (Lifting Spirits Miniature Therapy Horses).
A.M. Briefing
One Thing To Know Today
Tomorrow is an early release day for Andover Public Schools.

High school, middle schools dismissed at 11:30 a.m., elementary schools dismissed at 12:15 p.m.
Sports
AHS girls basketball (23-0) picked up a 48-28 win over Central Catholic in the second round of the MIAA Division I tournament Tuesday. Anna Foley had 18 points. Top-seed Andover will host 8th-seeded North Andover (15-6) in the quarter-finals at 7 p.m. Friday.
Weather
Overcast, high of 43. Clearing after midnight tonight with light winds. Low of 28.


- Compiled by Dave Copeland
Today's Top Stories
How Much Will Andover Tax Increase Cost You?
The Andover Select Board approved a 5.9 percent residential property tax increase in December, but the hit for residential property owners will be closer to 13.3 percent when a 13.2 percent increase in average assessments is factored into the tax bills.


Andover Votes 2023: Keith Saxon, Moderator
This week, Andover News is publishing profiles of the candidates running for select board, moderator and school committee in the 2023 Andover Town Election on March 28 to help voters make decisions.


Andover Police Log, March 1-7
Among the calls that kept Andover police busy this week: An irate customer at the Andover Tax Collector's office, a snake in a basement, and and a mother whose son was refusing to go to school.


Happening today:
Andover Public Schools early release day:

High school, middle schools dismissed at 11:30 a.m., elementary schools dismissed at 12:15 p.m.


7 pm: North Andover at AHS girls' basketball


Send us your news tips:
Know about a person or group doing something interesting in Andover?
An issue we should be covering? Have a press release for us to consider?
Submit a news tip today!
Thanks for reading. See you soon!