Good morning, Andover! Here's your daily rundown of everything happening in town for Friday, March 10, courtesy of Andover News.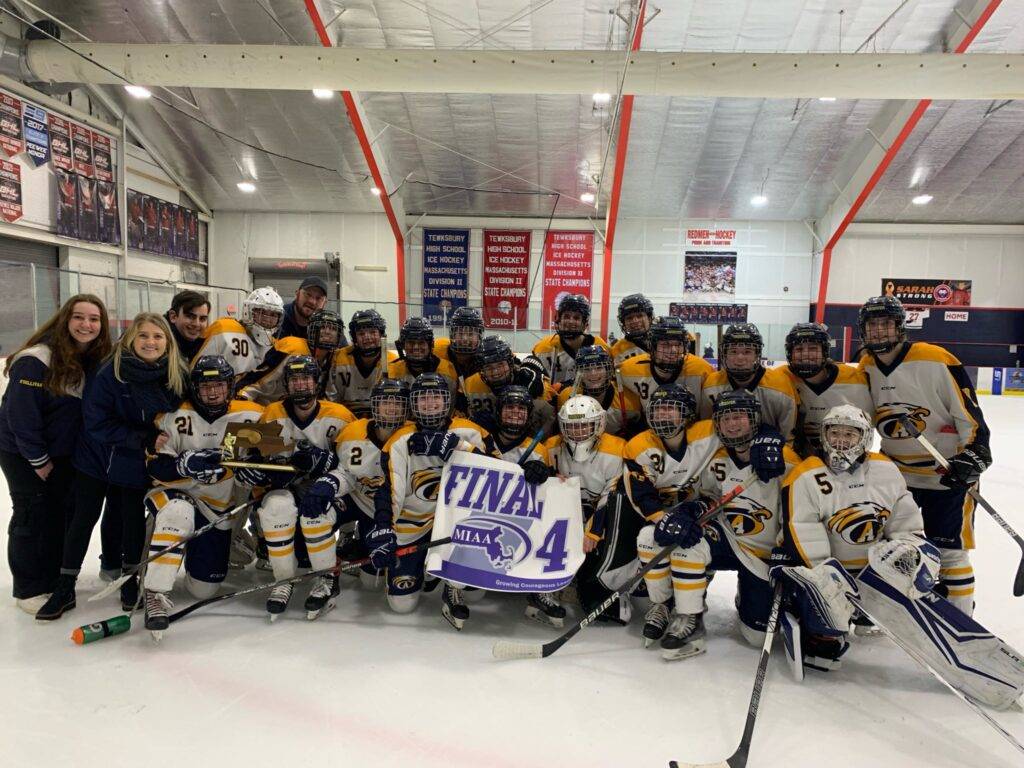 Final Four Bound: Senior Rose MacLean (2 goals) scored with seven seconds left in overtime to give Andover girls' hockey (17-3-2) a 3-2 win over Sandwich Wednesday in the MIAA Division 2 quarterfinals. The Warriors scored three unanswered goals after falling into a 2-0 hole, and goalie Allie Batchelder made 8 of her 21 saves in overtime. Third-seeded Andover will face second-seeded Duxbury in the semi-finals at a place, time and date TBD. More coverage from the Boston Globe (Photo: AHS Athletics/Twitter).
A.M. Briefing
Three Things To Know Today
Retraction: Yesterday's budget story ("How Much Will Andover Tax Increase Cost You?") has been retracted, based on reader questions and clarification from Town of Andover Chief Financial Officer Patrick J. Lawlor. Andover News regrets the error.
Today is an early release day for Andover Public Schools.

High school, middle schools dismissed at 11:30 a.m., elementary schools dismissed at 12:15 p.m.
There is an open seat on the Andover Retirement Board, and the select board is collecting applications from interested volunteers with accounting, investment, financial, or actuarial experience. The board meets monthly and oversees the retirement system for town employees (more info).
Sports
AHS girls basketball (23-0) hosts 8th-seeded North Andover (15-6) in the quarter-finals of the MIAA Division I tournament at 7 p.m. tonight.
Weather
Today: Mostly cloudy, high of 47. Cloudy tonight, with a 50% chance of snow showers after midnight. Low of 33.
Saturday: Cloudy, high of 40 with a chance of flurries or snow showers. A few clouds at night, low of 28.
Sunday: Mostly sunny, high of 44. Overcast at night, low of 33.
- Compiled by Dave Copeland
Today's Top Stories
Andover Votes 2023: Sheila M. Doherty, Moderator
This week, Andover News is publishing profiles of the candidates running for select board, moderator and school committee in the 2023 Andover Town Election on March 28 to help voters make decisions.


Andover Police Log, March 1-7
Among the calls that kept Andover police busy this week: An irate customer at the Andover Tax Collector's office, a snake in a basement, and and a mother whose son was refusing to go to school.


Happening today:
Andover Public Schools early release day:

High school, middle schools dismissed at 11:30 a.m., elementary schools dismissed at 12:15 p.m.


7 pm: North Andover at AHS girls' basketball


Send us your news tips:
Know about a person or group doing something interesting in Andover?
An issue we should be covering? Have a press release for us to consider?
Submit a news tip today!
Thanks for reading. See you soon!