Good morning, Andover! Here's your daily rundown of everything happening in town for Monday, March 13, courtesy of Andover News.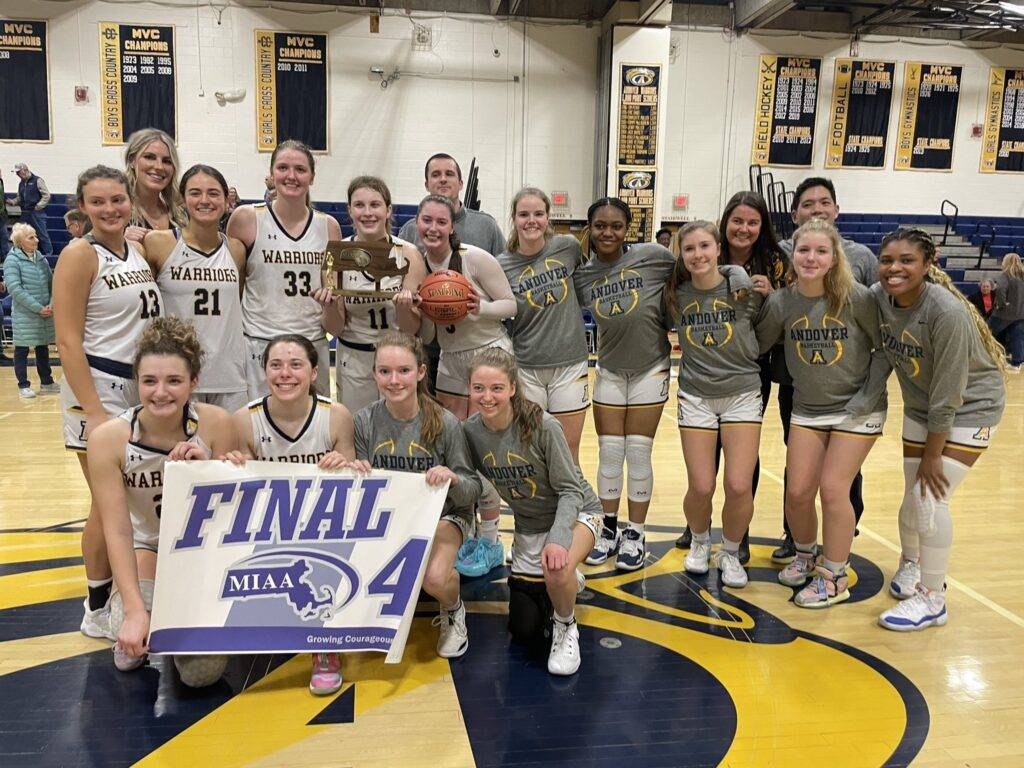 AHS girl's basketball is heading to its second straight Division I final four after beating North Andover 50-43 on Friday. Amelia Hanscom had 17 points and Michaela Buckley added 14 for the Warriors (24-0) "It was literally a heavyweight fight," Andover coach Alan Hibino told the Boston Globe. "They'd throw a punch, we'd throw a punch, and we were just exchanging baskets [and] exchanging body blows. It was an electric, awesome environment."


The team will try to advance to the state finals tonight when they face Wachusett Regional High School in Woburn tonight. Tip off is at 7:15 (Photo: AHS Athletics/Twitter).
A.M. Briefing
Two Things To Know Today
The Andover High School Parent Advisory Council is looking for sponsors for the annual Andover High School Senior Safari All-Night Graduation Event. Sponsorships begin at $100 and help off set the student ticket price substance-free party on graduation night for graduating seniors. For more information, email Jennifer Srivastava at jensrivastava@gmail.com.
The online travel site TravelLens has a list of the "15 Best Things To Do In Andover."
Sports
AHS girls' hockey was eliminated from the MIAA Division 2 tournament, falling 5-1 to second-seeded Duxbury (23-1-2) in the semifinals Saturday. Rose MacLean was the lone scorer for the Warriors.
Weather
Andover and parts of central, northeaster and eastern will be under a winter storm watch from 8 p.m. tonight through 8 a.m Wednesday, with snow accumulation between 4-8 inches possible. "Travel could be difficult," the National Weather Services said Sunday. "Heavy wet snow combined with gusty winds could bring down tree branches and result in power outages."


Cloudy with a high of 45, with rain beginning tonight. Wind, rain and snow tomorrow morning, turning over to snow in the afternoon. Tuesday's accumulation could be between 3-5 inches, with an additional 1-3 inches Wednesday morning and gusty winds.


- Compiled by Dave Copeland
Today's Top Stories
Andover Election 2023: Meet The Candidates
The Andover/North Andover League of Women Voters' candidates forum gives Andover voters a chance to hear from the candidates running in this year's town election.


This Week In Andover, March 12-19
Here's the Andover News weekly rundown of government meetings, events and activities happening in Andover.


Happening today:
7:15 pm: Wachusett vs. AHS girls' basketball (Woburn High School)


Send us your news tips:
Know about a person or group doing something interesting in Andover?
An issue we should be covering? Have a press release for us to consider?
Submit a news tip today!
Thanks for reading. See you soon!