Good morning, Andover! Here's your daily rundown of everything happening in town for Tuesday, Oct. 3, courtesy of Andover News.
Top Story
Andover Police Log, Sept. 20-28
Among the calls that kept Andover police busy this past week: A possibly drunk man "drooling on the bench" at a hotel, a three-month-old locked in a car, and a Google Maps car tangled in wires.
A.M. Briefing
Families are invited to a free Discover Girl Scouts Try-It Meeting on Wednesday from 6-7 p.m. at Camp Maude Eaton (more info).
Andover will break the record for Oct. 3 if we hit today's forecasted high temperature of 83. Sunny today, clear tonight, low of 58. More of the same tomorrow.
AHS field hockey was 7-1 heading into yesterday's game against Danvers after beating Tewksbury 5-0 Friday. Bella DiFiore had two goals while Rose Memmolo, Mia Giamo, and Casey Michael each had one (game recap submitted by Betsy Memmolo).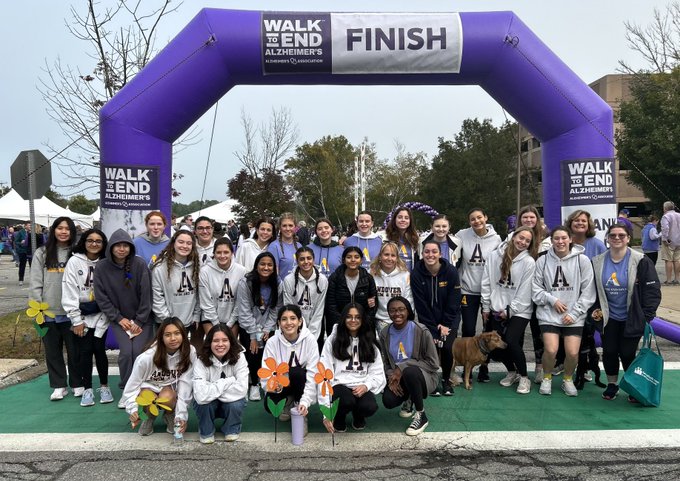 Photo: AHS Athletics/Twitter.
AHS girls' swimming picked up a100-59 win over Lowellon Friday.Freshman Sabine Barron and Shefali Bawari, sophomores Grace Merenda and Sophia Venetiou, junior Gaby McDonough and seniors Lauren Ilsley and Kendyl Walker won their events.
Natick handed a 2-0 loss to AHS girls' soccer, the first for the Warriors this season.
AHS football couldn't get past Methuen, falling 51-18 on the road.
On Saturday, Billerica defeated AHS boys' soccer 4-1.
- A.M Briefing compiled by Dave Copeland.
More Local News:
Claiming Harassment, Father Sues APS For $25 Million
A national nonprofit that helps parents involved in family court proceedings is assisting Howard with his lawsuit against Andover Public Schools.


Backers, Opponents Of New AHS: Let Us Vote
Andover voters may not have to wait for the select board to call a special Town meeting. Any registered voter can petition for a special town meeting by collecting 200 signatures.


Things To Do In Andover, Oct. 1-8
Here's the Andover News weekly rundown of government meetings, events and activities happening in Andover.


Happening today:
Sports


3:15 pm: Central Catholic at AHS golf (Renaissance Golf Club)
3:30 pm: Dracut at AHS girls' swimming (Greater Lawrence Tech)
6:30 pm: North Andover at AHS girls' soccer
6:30 pm: AHS boys' soccer at North Andover
(See

Andover Athletics info page

for more details).


Sports
3:15 pm: AHS golf at North Andover (North Andover Country Club)
4 pm: Multiple schools at AHS boys' and girls' cross-country
5 pm: Lawrence at AHS girls' volleyball
(See

Andover Athletics info page

for more details).


Send us your news tips:
Know about a person or group doing something interesting in Andover?
An issue we should be covering? Have a press release for us to consider?
Submit a news tip today!
Thanks for reading. See you soon!