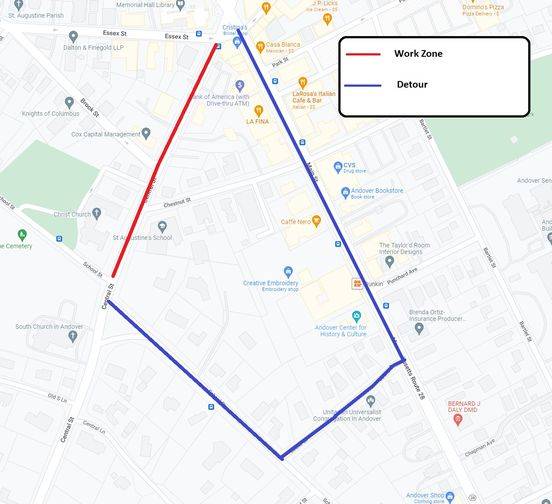 Good morning, Andover! Here's our daily rundown of everything happening in town for Thursday, Aug. 18, courtesy of Andover News.


Traffic alert: Central Street between Main Street and School Street was closed at 5 a.m. ths morning for final paving work. The Department of Public Works earned drivers and businesses that there will be detours (see map, above) and delays accessing public parking lots. The DPW notice did not, however, indicate how long the road would be closed.


Weather: Hotter and mostly sunny today, with a high of 91. Partly cloudy on Saturday and Sunday, with highs in the low 90s. Our next, best chance for rain comes on Monday, when the high temperature will be 73.


Programming note: I'm on vacation this week. While I'll be checking news and putting out the newsletter every day this week, I may be slower than usual to grab stories. - DC
Today's Top Stories
AHS Hires Two New Assistant Principals
Andover High School hired two new assistant principals, including one to replace an administrator who resigned in June and one to replace John Norton, who plans to retire in December.


Happening today:
Things To Do
2:30 pm: The Nature Artist's Eye Exhibit Reception at

Memorial Hall Library. Call 978-623-8400 for info.


Send us your news tips:
Know about a person or group doing something interesting in Andover?
An issue we should be covering? Have a press release for us to consider?
Submit a news tip today!
Thanks for reading. See you soon!