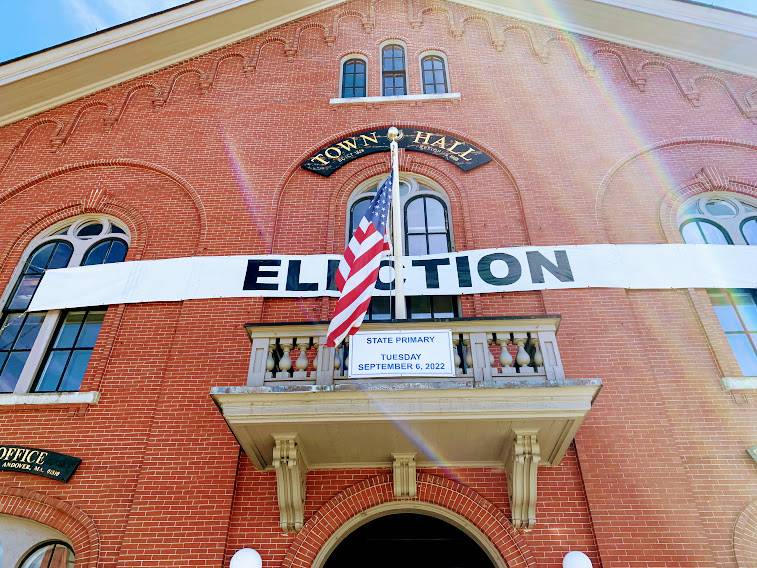 It's primary election day, Andover! Here's our daily rundown of everything happening in town for Tuesday, Sept. 6, courtesy of Andover News.


Weather: More rain with a high of 65. Rain could be heavy at times with accumulation up to an inch. Skies will clear later tonight with a low of 56.


Correction: A Sept. 2 article in yesterday's newsletter gave the wrong spelling of the last name of Sophia Miele, the new student rep to the Andover School Committee. Andover News regrets the error.


On average, two newspapers close every week: By 2025, a third of the U.S. newspapers that existed in 2000 will have closed permanently.

Don't let this happen in Andover.

Consider making a pledge to support the Andover News Kickstarter and make sure we can continue to offer local, independent news in Andover.
Today's Top Stories
Andover Health: Avoid Merrimack River For 48 Hours
The Lowell Wastewater Treatment Facility released untreated or partially treated wastewater into the Merrimack River between 3:20 and 6:18 p.m. on Monday.


MVRTA Cancels Boston Commuter Bus
The authority cited "changing commuting demand and unsustainable cost increases" in a notice to riders posted last month.


Upcoming Road Work, Detours And Closures In Andover
The Andover Department of Public Works is warning drivers of road closures, detours and delays for two projects scheduled to begin Tuesday.


Who Is On The State Primary Ballot In Andover?
There's not a lot of local action on the ballot for the Sept. 6 Massachusetts primary, as all of Andover's candidates for the state legislature are running unopposed in their party's primary. But Andover voters can help choose their party's candidates for several key, statewide races, including governor and attorney general.


Election 2022 In Andover: Sept. 6 Massachusetts Primary Voter Guide
Polls are open from 7 a.m. to 8 p.m. in Andover today.


Support Local Journalism: Andover News Launches Kickstarter Campaign
Andover News launched a Kickstarter campaign to ensure we can continue to offer nonpartisan, local news coverage in our community.


Happening today:
Monday trash collection
First day of Pre-K, Kindergarten
Massachusetts Primary Election, polls open 7 am – 8 pm in Andover.
Cormier Youth Center closed for election.


Sports
3:15 pm: AHS Golf at North Andover (North Andover Country Club)
4:30 pm: AHS Girls Soccer at Tewksbury
5:30 pm: Acton-Boxborough at Andover Girls Volleyball
6 pm: Lowell at Andover Boys Soccer


Sports
4 pm: Multiple Schools at AHS Girls and Boys Cross Country


Send us your news tips:
Know about a person or group doing something interesting in Andover?
An issue we should be covering? Have a press release for us to consider?
Submit a news tip today!
Thanks for reading. See you soon!