Andover's Annual Town Meeting begins on May 1 and will continue on subsequent nights until all 41 articles on the 2023 warrant have been addressed. Andover News will publish explainers on key articles between now and the end of April, and publish a Town Meeting Cheat sheet for those who plan to attend during the last week of April. Additional Town Meeting resources and information are at the bottom of this article.
Articles in this series will be free for non-subscribers to read.
---
While many articles included on the Annual Town Meeting Warrant are routine housekeeping articles, several deserve a closer look before voters head to the Collins Center on May 1. The first major decision Town Meeting will make next month comes in articles 4, where the body will be asked to approve the Town's operating budget for the fiscal year beginning on July 1.
Article 4: Fiscal 2024 Budget
In the simplest terms, this article is Town Meeting's chance to weigh in Town Manager Andrew Flanagan's proposed budget — including how much the Town will collect in taxes, how much it will move from available funds, and how Andover will spend more than $220 million between July 1, 2023 and June 30, 2024.
Both the select board and the finance committee are recommending Town meeting approve Article 4.
Impacts on Spending:
The proposed $224.6 million budget is up $9.7 million, or 4.5 percent, from the current year's budget of $214.9 million.
The biggest line item in the operating budget is $99.6 million for Andover Public Schools, up 3.75 percent from $96.0 million this year.
Additional segment spending assumptions Flanagan outlined at a December tri-board meeting are in the graphic below.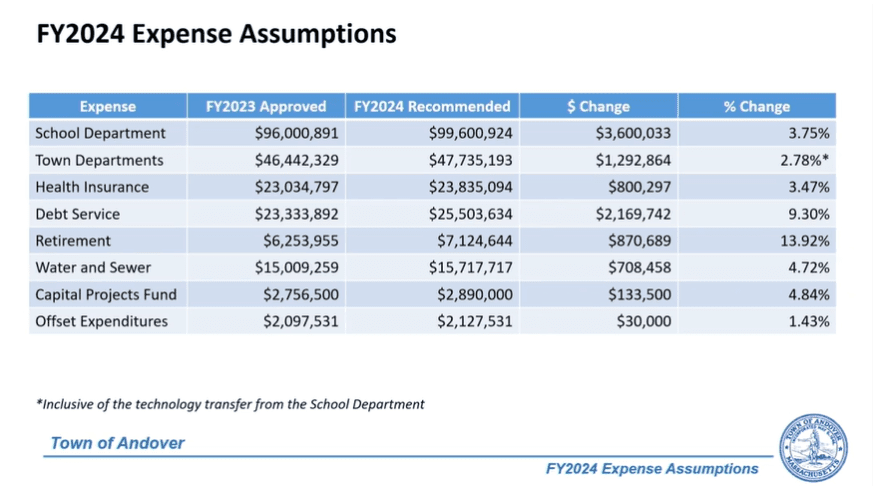 Impact on Taxes:
The average Andover homeowner would see property taxes rise 5.7 percent to $12,404 from $11,733 this year, based on average assessed home values. The current year's tax rate represents a 5.9 percent increase from Fiscal 2022.
The average Andover homeowner would pay $12,404 in property taxes next year, up from $11,733 this year, based on average assessed home values of $858,952. See additional assessment increases in the table below.
The average assessed values for Fiscal 2024 are up 13.2 percent from $758,570 this year.
The town could see as much as a 5.9 percent increase in state aid from initial projections in December when the state legislature gives final approval to the state spending plan.
Last month, Select Board Alex Vispoli suggested using the anticipated increase in state aid to reduce the tax increase the board approved in December.
| | | | |
| --- | --- | --- | --- |
| Property Type | FY 2024 Average | FY 2023 Average | Increase |
| Residential | $858,952 | $758,570 | 13.2% |
| Condominium | $406,912 | $371,309 | 9.6% |
| Multifamily | $716,475 | $618,126 | 16.0% |
| Commercial | $2,590,325 | $2,392,289 | 8.3% |
| Industrial | $5,828,735 | $5,118,906 | 13.9% |
Proposed Andover tax rates for FY 2024.
---
Town Meeting Resources
Useful Websites and Documents