The 12-year-old boy who was among the victims found dead from gunshot wounds in a double murder-suicide on Porter Road in Andover early Thursday morning was a "gentle soul" and "extraordinarily creative."
"Our community is heartbroken by the tragic loss of Sebastian," St. John Prep's Head of School Ed Hardiman said shortly after the school identified him as a victim. "Sebastian was a wonderful young man. He was a kind and gentle presence, well-loved by his teachers"
Shortly before noon on Thursday, the Essex County District Attorney's office identified the other victim as Linda Robinson, 55. Her husband, Andrew Robinson, 56, died of a self-inflicted gunshot wound. "The incident appears to be a tragic case of domestic violence and murder-suicide," the office said in a news release.
---
If you or someone you know needs help, call 9-8-8 or the National Suicide Prevention hotline at 1-800-273-8255. You can also reach the Crisis Text Line by texting 'Home' to 741741 anytime.
---
In a news conference earlier Thursday morning, Essex County District Attorney Paul Tucker stressed there was no threat to the public, and called it a "death investigation."
"Obviously, we know the how," Andover Police Chief Patrick Keefe said. "We're trying to figure out the why right now, so we're going to need some time to figure that out."
Andover police had not previously been called to the home, Keefe said. Town of Andover property records list Linda Robinson as the owner of the house at 48 Porter SRoad.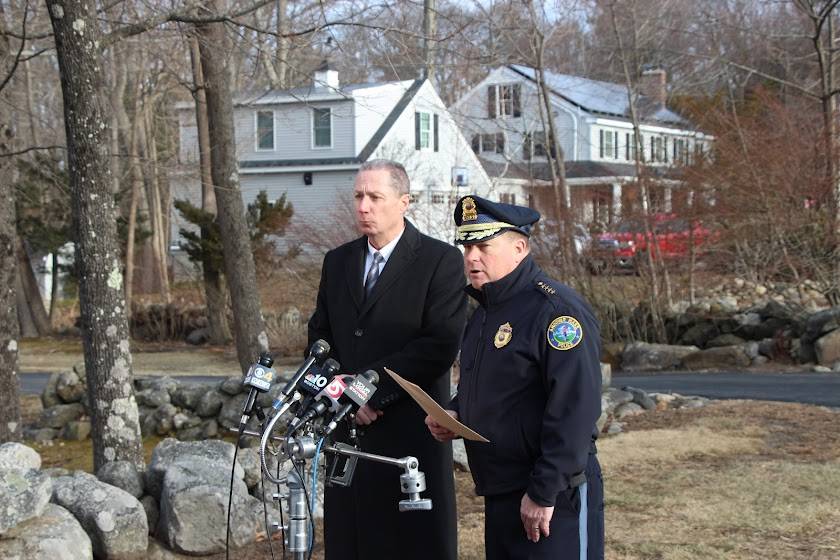 Sebastian Robinson was a sixth grader who played cello at St. John's in Danvers, where classes were canceled Thursday.
"As I've talked with his teachers this morning, the description they've continually offered is he was a very gentle soul who felt very grateful to be a part of the Prep community, had a tremendous friend group and was very connected to our music program, to our campus ministry program, and just someone who was very well-loved as a gentle soul," Hardiman said.
The school has scheduled a prayer service for 5 p.m. Thursday.
Andover Police Chief Patrick Keefe said police received a 911 call from inside the house at 3:21 a.m. Police and Andover Fire Rescue had to break through two doors to get into the house, where they found the three victims.
---
More coverage on Andover News:
---
In a statement, Andover Public Schools Superintendent Magda Parvey said the district was making counselors available to students and staff.
"I want to acknowledge the incident that took place this morning on Porter Road and offer condolences to the family and friends of the victims," Parvey said. "We recognize the Andover community may have known the victims and this news may be difficult for our students and staff…We encourage anyone who needs assistance as a result of today's tragedy to reach out to a counselor or social worker in the coming days."
Tucker urged anyone with mental health issues to contact his office for assistance in finding help. "This is a very good time to remind folks that if they are suffering from any mental health issues, any type of depression — services are out there," he said.
A large police presence remained outside the home at 48 Porter Road throughout Thursday morning. The District Attorney's Office State Police Detective Unit, other Massachusetts State Police units, and the Andover Police Department were continuing to investigate. Porter Road has been reopened to traffic, and crime scene tape remains in front of the home.
Top photo: Sebastian Robinson (St. John's Prep).