Good morning, Andover! Here's our daily rundown of everything happening in town for Saturday, Sept. 24, courtesy of Andover News.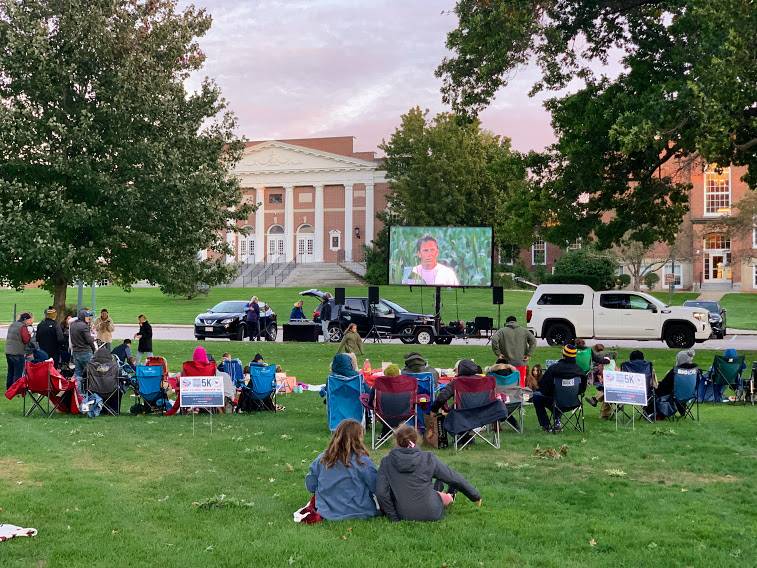 Above: People bundled up to watch "Field of Dreams" in Andover Friday night as part of Andover Days 2022. The event concludes downtown from 10 a.m. to 4 p.m. today.
Looking for the Andover News weekly recap of the top stories from the past week? It will be back tomorrow and combined with our weekly listing of upcoming events! Going forward, look for the weekly recap in Sunday's newsletter.


Sports: Maya Flatley won the 200 and 100 freestyle as AHS girls swimming defeated Haverhill 102-82...Marissa Kobleski had 14 kills and Jessie Wang had six as AHS girls volleyball (6-1) beat Danvers 3-0...


Weather: Partly cloudy, high of 68. Clear skies tonight with a low of 47.

Sunday:

Mostly cloudy, high of 72. 70% chance of rain Sunday night.
Today's Top Stories
Andover Considering Special Town Meeting For Added School Project Costs
Supply chain issues and inflation have forced the cutbacks on some features of the new West Elementary School, which is scheduled to open in time for the 2024-25 school year.


Police Respond To 'Incident' Between Two Andover Middle School Students
The incident was "witnessed by others" and happened after dismissal on Friday, which was an early release day for Andover Public Schools.


Select Board Will Check Town Borders On Andover Day
Massachusetts state law requires at least two selectmen to locate and mark town boundaries every five years and record the proceedings with the town clerk. The law dates back to an earlier era, when boundaries were more fluid.


Happening today:
Andover Days
10 am-4 pm: More than 200 vendors (including Andover News!) will take over downtown Andover, along with food, entertainment, music by local bands, a biergarten by Oak & Iron, The Andover Farmers Market will set up behind Old Town Hall and there will be a Sustainability Fair in the parking lot between Old Andover Village and Café Nero featuring over 25 sustainability organizations.


Things To Do
10 am:

Stories on the Steps

at Memorial Hall Library
10 am-2pm: Andover Farmers Market (behind Old Town Hall for Andover Days this week)


Sports
TBD: AHS girls and boys cross country at MSTCA Frank Kelley Invitational (Wrentham)
1 pm: AHS field hockey at Shrewsbury


4 pm: Ukulele Jam, Faith Lutheran Church (360 S Main Street). Bring your ukulele (or guitar or banjo or mandolin or just yourself) and jam with us as we sing some tunes we love to sing! All skill levels are welcome.


Sports
TBD AHS girls swimming at Haverhill


Send us your news tips:
Know about a person or group doing something interesting in Andover?
An issue we should be covering? Have a press release for us to consider?
Submit a news tip today!
Thanks for reading. See you soon!