Good morning, Andover! Here's your daily rundown of everything happening in town for Tuesday, March 14, courtesy of Andover News.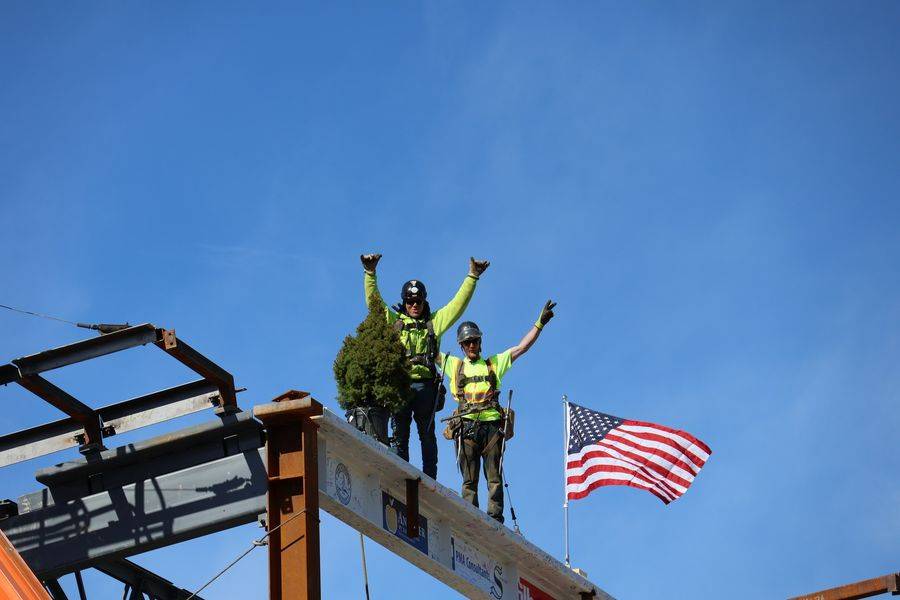 The final beam in the structure of the new West Elementary School and Shawsheen Preschool was put in place during a ceremony Friday. See more photos on Facebook.
A.M. Briefing
Two Things To Know Today
As of Monday, all Andover News coverage of the town election on March 28 will be available free to non-subscribers as a service to Andover voters. You can now view all articles about the election, including candidate profiles, without it counting against your monthly limit of free views.
We're under a winter storm warning until 8 a.m. tomorrow, with 6-12 inches of snow and wind gusts up to 55 MPH. See 'Weather,' below, for more details.
Sports
AHS girls basketball advanced to the Division I state finals with a 61-57 win over Wachusett at Woburn High School Monday night. The Warriors (25-0) will face second-seeded Bishop Feehan (20-4) in the state finals at 7:30 p.m. Friday at the

Tsongas Center

(more coverage from the Boston Globe).
Weather
Get ready for March winds with gusts up to 55 mph. Rain and snowcontinues this morning and turns over to snow this afternoon. Andover will see 6-12 inches of snow from the storm, which winds down late tonight. Power outages possible. More coverage and cancellations.


- Compiled by Dave Copeland
Today's Top Stories
STORM WATCH: Heavy Winds, Snow In Andover
A winter storm heading to Andover could deliver as much as 6-12 inches of snow and damaging wind gusts up to 55 MPH.


Police Respond To AHS 'Medical Emergency'
Neighbors posted on Facebook groups for Andover residents saying there were three police cars and "at least" two ambulances at the school.


Andover Election 2023: Meet The Candidates
The Andover/North Andover League of Women Voters' candidates forum gives Andover voters a chance to hear from the candidates running in this year's town election.


Happening today:
Send us your news tips:
Know about a person or group doing something interesting in Andover?
An issue we should be covering? Have a press release for us to consider?
Submit a news tip today!
Thanks for reading. See you soon!