When Andover asked for public comment about sidewalk improvements last summer, Elm Square was flagged 10 times, with nine of the responses including comments about the signal timing issues which likely played a factor in the death of five-year-old Sidney Olson.
"Frequent car/ped conflicts here due to the allowed right turn on red and no exclusive ped phase," one comment said. "Please consider implementing an exclusive pedestrian phase and no turn on red signs."
Sidney was in the crosswalk and the walk sign was lit when she was hit by a Sysco truck. The investigation into the crash is ongoing, but no charges have been filed, and the driver has cooperated with investigators. Of the nine comments received over a one-month period last year, six specifically addressed the square's current configuration, which allows traffic to turn right into crosswalks when walk signs are lit.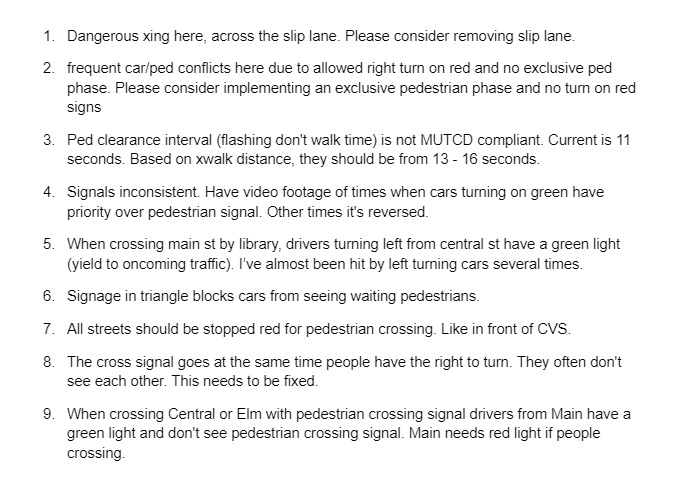 Last month, in response to a public records request, Andover turned over two written complaints from residents about pedestrian safety in Elm Square between 2018 and May 9, the day of the crash. One of the complaints was Andover Police Public Safety Officer Glen Ota's report on an August meeting with WalkBike Andover to discuss the possibility of making all traffic stop when walk signs were lit and installing No Turn On Red signs.
While Andover residents had a chance to sound off on the safety concerns at a community forum Thursday, there were few new developments. Town officials again outlined the process for a traffic study that needs to be completed before changes can be made to Elm Square's configuration. Sidney Olson's father, Eric Olson, reiterated comments and concerns he made at Monday's select board meeting, including pushing the Town to commit to zero pedestrian fatalities.
File photo.