There will be no further updates to this article. See the latest updates here.
The Andover School Committee called a joint, closed-door meeting with the select board and finance committee for 8 a.m. Monday, hinting the Town may have to override the state-mandated tax cap to pay for a new teachers' contract.
The so-called tri-board typically meets to discuss financial issues, such as town meeting warrant articles and annual budgets. The meeting suggests the school committee is trying to assesses the budget impacts of raising its last offer to the Andover Education Association, which was rejected.
In a 10:30 p.m. update, the school committee said the Town would need to override Proposition 2 1/2 in a special election to pay for AEA's latest proposal, which would cost the Town $15.1 million over the life of the contract. The school committee's latest proposal would cost $9.6 million.
"We think it is important to correct the record regarding this information released by the AEA today: 'We are only $260,000 apart from reaching agreement for the first year.' The fact is, we are not negotiating only one-year contracts," the update said. "We know teachers and staff want to be back in the classroom, and we want them back in the classroom with students.
The union, which said teachers will be back on picket lines Monday in front of closed schools, asked supporters to sign in virtually to the emergency tri-board meeting.
"We cannot responsibly approve a contract that ties the hands of the district and the town for years to come and requires both the district and the town to consider significant budget cuts that will negatively impact teachers, students, families, and other town residents," the school committee said.
---
Strike Recap:
Latest at a Glance:
Schools are closed Monday after the sides reached a deadlock Sunday evening.
The select board and finance committee will meet with the school committee in an executive session Monday.
A judge ordered teachers to go back to work on Monday — an order the union is defying.
More Information:
---
Previous Coverage:
---
Andover Public Schools will be closed for a second day Monday after marathon bargaining sessions over the weekend failed to end the teachers strike.
The district made the announcement just after 9 p.m. Sunday, an hour later than expected. The union said school officials told them they would close schools Monday if AEA did not accept its "last, best offer" before negotiations broke around 7 p.m., but the sides were planning to continue talks Sunday night.
Families can pick up boxed breakfasts between 8 and 9 a.m. and lunches between 11 a.m. and 1 p.m. at Bancroft Elementary School. The Town is holding a block party at the Cormier Youth Center for middle and high school students. Sports and theater rehearsals are not affected by the strike.
AEA President Matt Bach said Sunday's bargaining sessions had "been a waste of everybody's time" after the school committee essentially responded to the union's last offer with a proposal that was little changed from its prior offer. Compensation remains the big sticking point after the sides made some gains on parental, family care and sick leave.
"They have decided to close the schools. They have decided the difference between their proposal and our proposal, which is about $260,000, is a bridge too far for them," Bach said. "And we should say they've paid their law firm half a million dollars over the course of the negotiations."
The school committee, meanwhile, said accepting AEA's latest offer would make its budget "unstainable" and would force layoffs and cuts which could include reinstating previously-eliminated user fees, reductions in arts, music, sports and extracurricular programing, and increased class sizes.
"If the School Committee accepted these wage proposals, our budget would be unsustainable and would result in layoffs," the statement said. "Although we would prefer to be in a position to offer more, we cannot ignore the reality of the severe budget implications of any additional increases."
---
Parents and students were left to wonder whether Andover Public Schools would be open Monday after the school committee said a 20-hour bargaining sessions ended just before 6 a.m. Sunday with no agreement on a new, three-year contract.
School officials had not announced whether there would be school on Monday as of 3 p.m. on Sunday. "We remain committed to reaching an agreement that returns students to classrooms on Monday morning," the school committee said in an update just before 6 a.m. Sunday.
The school committee said its latest offer included a 14 percent cost of living adjustment over four years for all teachers, and a 23.4 percent COLA for instructional assistants. The school committee also accepted the Andover Education Association's proposals for eight weeks of district-paid parental leave and allowing members to use 60, paid sick days during leave to care for a seriously ill family member.
Note to Readers:
Andover News will provide live updates on this post throughout the AEA strike. Check back for the latest updates throughout the weekend and until the strike ends.
Coverage of the strike will be available to all readers, regardless of subscription status.
The school committee's note suggested the remaining sticking points are salaries for teachers and instructional assistants. While both sides agree the district should eliminate step increases, they differ on the percentage salaries should be increased for the three-year contract.
---
Also on Andover News: West El Principal Placed On Medical Leave
---
The Andover School Committee and the union that represents the Town's public school teachers were scheduled to resume negotiations Saturday morning in hopes of ending a strike that closed schools on Friday.
The district and the Andover Education Association worked with a state-appointed mediator for eight hours Friday afternoon and evening, according to a statement the school committee sent out Saturday morning. The district said it increased parental leave to 11 weeks by combining district-funded leave and accrued sick time. The district's offer also increases instructional assistant sick time to 15 days per year.
"The School Committee remains committed to negotiating in good faith and looks forward to the AEA's response to its proposal," the statement said. "In the meantime, we once again call on the AEA to end this illegal strike so we can bring our students back to the classroom.
The school committee's note, however, did not say whether the latest offer bridged the gap between the sides on wages, stipends, teacher planning time and curriculum concerns.
An Essex County Superior Court judge ordered Andover teachers to end a one-day strike and return to work on Monday — an order Andover Education Association Matt Bach said earlier on Friday the union's 850 members would defy.
The motion was filed by the Commonwealth Employment Relations after the union defied its decision AEA was breaking state law. Neither side had commented on the order as of 7:30 p.m. Friday. Negotiations teams were scheduled to wait on Friday.
When addressing reporters on Friday morning, Bach said the union was prepared to pay contempt of court fines and its members would not return to work until a contract is finalized.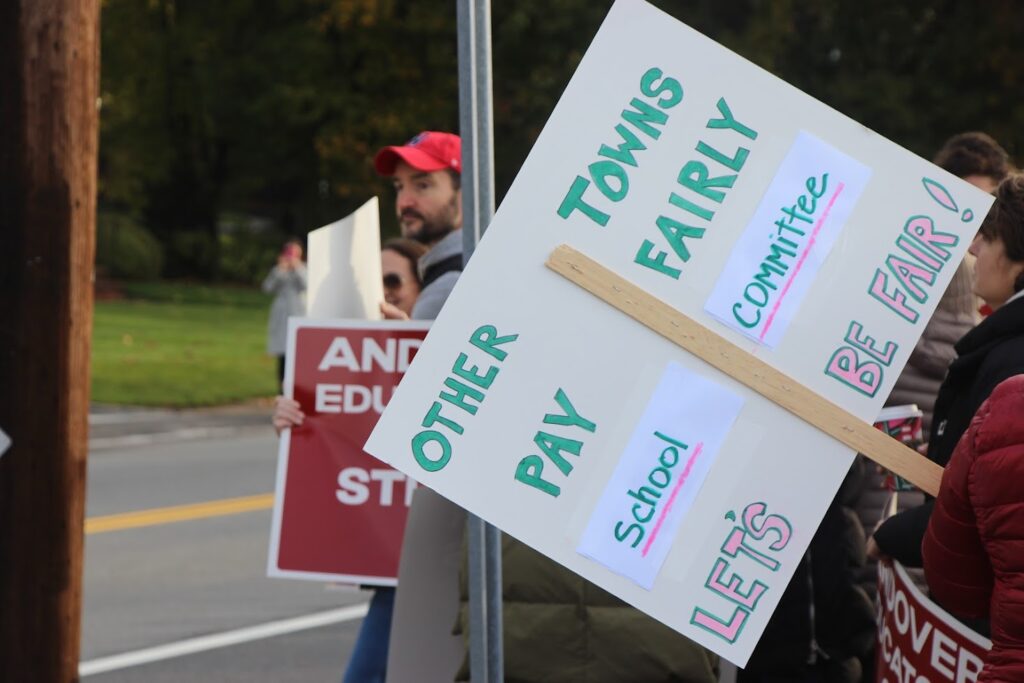 The two sides were ordered to file report updating the court and on whether the union complied with the order by 9 a.m. Monday. A hearing is scheduled for 2 p.m. Monday, if necessary.
Teachers hit the picket lines Friday in the first day of what their union president said could be an extended work stoppage, despite the Andover School Committee's successful appeal to the Massachusetts Department of Labor Relations's Commonwealth Employment Relations Board to order Andover Education Association's members back to work.
The Andover School Committee sent an update to the school community just after 4:30 Friday morning, once again calling the strike illegal.
CERB "ordered AEA members to immediately cease and desist their unlawful work stoppage and return to school," the statement said. "We hope and expect the AEA will comply with the order and return to school on Monday."
---
The Andover School Committee released the following statement at 11:15 a.m. Friday morning:
Last night, the Commonwealth Employment Relations Board at the Department of Labor Relations ruled that the Andover Education Association's decision to engage in an illegal strike violates state law. Because the union is now in violation of the CERB's order, we understand the CERB's counsel will seek a court order today directing the AEA to comply. We urge the AEA to comply with all court orders that may be issued so school can resume on Monday.
More Information:
---
Previous Coverage:
The CERB also ordered a state-appointed mediator to work with both parties and help reach a fair and equitable agreement. Our first session will be today at 2 p.m. We look forward to resuming negotiations and will continue to work in good faith towards an agreement.
We believe our most recent offers to both units are fair and competitive. Our offers increase salaries and wages, provide significant additional elementary teacher prep time, and expand paid parental leave, while staying within our budget parameters and long-range financial plan. The proposal would:
Increase starting-level teacher salaries to $58,870 (a 23% raise) and top-level salaries to $118,882 (an 11% raise) after three years.
For instructional assistants, increase starting-level hourly wage to $25.54 (a 32.6% increase) and for most senior instructional assistants, increase hourly wage to $32.72 (a 14.4% increase) by year three. For their 184-day work year, this equates to $42,137 for a senior level IA and $32,889 for an entry level IA.
Provide elementary teachers with an additional 10 minutes of uninterrupted prep and planning time nearly every day. Currently, elementary teachers have 280 minutes per week, roughly 56 minutes per day, exceeding the average time provided in comparable school districts by nearly 15 minutes per day. In addition, our elementary teachers have a 50-minute duty-free lunch period, while teachers in several other districts have shorter lunches and are required to perform duties.
Provide 10 days of paid leave within four months of the birth or adoption of a child without using accrued sick time, and allow non-birthing parents to use 20 days from their bank of accrued sick time as well. Unit A members are allowed to accumulate up to 180 days of sick time, while Unit B members also are permitted to accrue a significant number of sick days in their bank.
The School Committee is committed to working in good faith with the AEA bargaining team to end this disruption to student learning. We will continue to provide the community with updates as we are able.
---
Andover School Committee
Andover Education Association
Date of Latest Proposal
Nov. 8
Oct. 25
Salary Increase
$12,000 for all teachers and a 9.5% stipend increase. The $12,000 amounts to 25.6% raise for entry-level teachers and 11.2% for the highest-paid teachers.
16% for all teachers over three years and a one-time $2,500 bonus
Entry-Level Salary At End Of Contract If Accepted
$58,870
$54,369
Top-Level Salary At End Of Contract If Accepted
$118,882
$123,983
Recess/ Teacher Planning Time
10 minutes additional planning time
10 minutes additional recess time for teacher planning
Other points
10 days of paid leave within four months of the birth or adoption of a child.

Increase from 8 to 20 consecutive days of accrued sick time that can be used following the birth or adoption of a child.
"Living wage" of $40,000 for instructional assistants.

One day per week when elementary school students would be dismissed 90 minutes early for teacher prep and planning.

Changes and input for curriculum selection.
---
The district's latest offer keeps APS competitive with similar school districts, School Committee Chair Spruce said in a note to the school community sent after Wednesday's bargaining session. Andover News reviewed salaries of other Massachusetts School Districts:
| | | |
| --- | --- | --- |
| District | Effective Date | Salary Range |
| Latest APS Proposal | 2025-26 | $58,870-$118,882 |
| Latest AEA Proposal | 2025-26 | $54,369-$123,983 |
| Brookline | 2023-24 | $58,894-$125,154 |
| Lexington | 2022-23 | $51,498-$118,170 |
| Newton | 2023-24 | $56,939.52-$120,172.14 |
| Wellesley | 2021-22 | $51,975-$121,680 |
| Wayland | 2022-23 | $52,825-$127,784 |
| Weston | 2022-23 | $56,245-$118,790 |
---
Bach addressed reporters just after 8 a.m. Friday across the street from Andover High School. Bach said AEA was prepared to pay fines for striking, which is illegal for teachers under state law:
Bach said the union will strike until a deal is reached. The school committee was "at the labor board last night, but, rather than paying their lawyers, their time will be better spent at the negotiation table," he said.
---
Andover Public Schools' will be closed Friday after the union that represents the district's teachers rejected the latest contract proposal from the school comittee.
The Andover School Committee presented its latest offer for a new teachers contract to the Andover Education Association on Wednesday, offering a $12,000 salary increase to all teachers over the life of the three-year contract. The two sides are also at odds over pay for instructional assistants.
"We are incredibly disappointed in this decision by the AEA to take this illegal action that unfairly disrupts the education of our students," Andover School Committee Chair Tracey Spruce said in a statement. "The School Committee bargaining teams have negotiated in good faith to reach contracts that are fair to all educators and staff, and we urge the union bargaining team to immediately come back to the negotiating table and work with us in good faith to reach agreement."
The union posted a statement on Facebook Thursday morning suggesting the latest offer still leaves a wide gap between the sides. By Thursday afternoon, AEA members had voted to go on strike, effectively immediately.