New estimates put the cost overruns at the West Elementary School and Shawsheen Preschool construction project at $17.5 million, lower than an earlier estimate of nearly $19 million.
The new estimate, Brian DeFilippis of construction manager PMA Consultants told a joint meeting of four Andover boards Wednesday, came during a bid "descoping process" and includes replenishing the construction and owner contingency funds, which act as a reserve against unforeseen issues during construction.
Bids for the $151.6 million project came in about 14 percent over budget because of inflation and global supply chain issues. The budget deficit is similar to deficits for other school building projects in Massachusetts.
The new estimates were presented during a QuadBoard meeting of the school committee, select board, finance committee and West Elementary building committee to review a two-article warrant for the Dec. 1 special town meeting. If passed, the articles would close the budget deficit and allow the school to be completed in time for its scheduled opening at the start of the 2024-25 school year.
In the first article, special town meeting would be asked to approve borrowing a still-to-be determined amount to pay for the budget overruns. The second article, if approved, would move $463,731 left over from the $1.2 million town meeting approved in 2018 to fund the West Elementary School Feasibility Study to help defray some of the costs.
At Wednesday's QuadBoard meeting, the West El building committee unanimously voted to recommend special town meeting pass both article. The select board will vote on its recommendation at Monday's meeting. The school committee will make its recommendation following an executive session scheduled for Oct. 25. The finance committee did not indicate when it would make its recommendation.
What Will It Cost?
Based on the new estimates, the average Andover taxpayer would see $74 added to their annual tax bill for 30 years if special town meeting approves the funding, down from $83 based on the original, $19 million estimate and the average assessed single-family value of $759,453.
Those average taxpayers are currently paying $11,088 in annual property taxes. Assessed home values are generally lower than estimated home values found on popular real estate prices. You can check your property's assessed value online.
The final number special town meeting will be asked to approve in Article 1 is unlikely to be determined until Nov. 1, when the finance committee needs to submit its report in time for the warrant to be printed and sent to residents. The "average" Andover taxpayer is already paying about $471 per year for the original, $151.6 million project, which Town Meeting approved last year.
Town Manager Andrew Flanagan said he expects the overrun estimate will continue to go down as the descoping process continues.
"The number has gone down from the time you were hearing $19 million because of that descoping process, and it will continue to go down," Flanagan said. "Unfortunately it's going to continue, just because it takes time, past November 1…a lot of stuff is going to happen behind the scenes between now and then, but a lot also has to happen at the board and committee level as that process continues."
The other factor, Flanagan said, is uncertainty in the bond market. His estimates were based on the town securing a 3.5 percent interest rate, but that number could go as high as 5 percent. Andover has an AAA bond rating, but "we anticipate having a higher rate than we typically would," Flanagan said.
Few Options If Special Town Meeting Vote Fails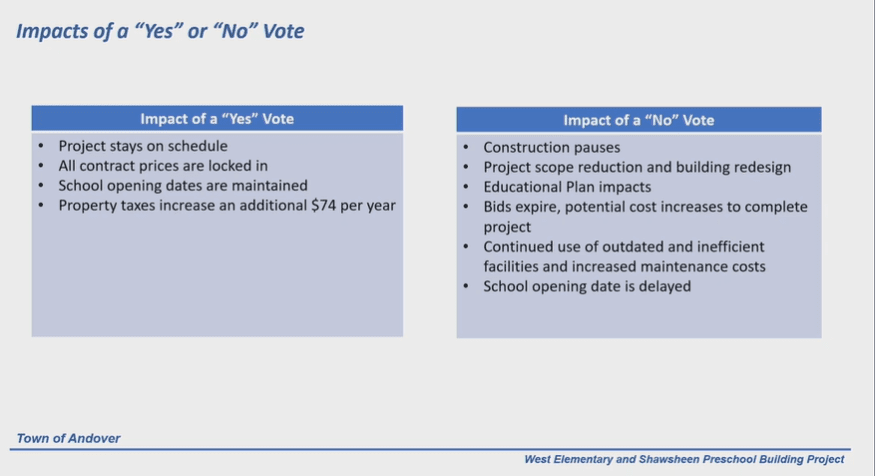 Andover officials have said the project will likely have to be put on hold if special town meeting does not approve the funding.
"I think it is apocalyptic," Andover School Committee Chair Susan McCready said. "If you opt to wait until (spring) town meeting you're talking about more money. If you choose not to do that, you clearly cannot continue building to the design that we have. So you have to stop, redesign and figure out what you pull from the educational plan that was used to develop the design of the building. To me, (a no vote) is a domino effect."
At Wednesday's meeting, construction officials outlined some of the cuts they would have to make to complete the project on time without the additional funding. Those cuts ranged from delaying the purchase of $233,307 in gym equipment to forgoing landscaping and window treatments.
"You're not going to have a gym without the gym equipment. It has to be there to function," Lorraine Finnegan of design firm SMMA said. "So if you take it out now, where does it come from in the future?"
"If the vote were to fail, we really do not have very good options at that point," West Elementary School Building Committee Chair Joel Blumstein told the Andover Finance Committee last month. Blumstein said the committee would likely have to wait until the next town meeting to ask for the money again, delaying the project.
The building committee closed an earlier, $5.5 million budget deficit, primarily by scaling back some of the project's features. But Andover School Committee Chair Susan McCready said further cutbacks are not possible to close the larger deficit.
"Having reviewed the options for completing this project, Special Town Meeting is the option that allows the community to have a voice in next steps," McCready said in a news release. "Further reductions to project scope will impact the educational plan for the project. Our community deserves to fully understand impacts and act on that at a Special Town Meeting."
Photo/Artist Rendering: Andover Public School
QuadBoard Meeting video from Andover TV
QuadBoard meeting agenda