A law passed in 2021 could dramatically overhaul affordable housing zoning laws in Andover and 174 other Massachusetts communities served by the MBTA.
The law requires the towns to complete a six-page form outlining "action plans" to the state Department of Housing and Community Development by Tuesday. The plans are the first step in an ambitious effort to meet former Gov. Charlie Baker's goal of building 135,000 affordable housing units in Massachusetts by 2025 while increasing access to public transportation.
DHCD will cut state funding for housing authorities in towns that fail to submit plans, which are the first step in the initiative. Andover has received $6.3 million in state housing grants since Fiscal Year 2015.
Law Could Create A Minimum Of 2,031 New Housing Units In Andover
The law requires communities to create a zoning district allowing multi-unit family housing within half a mile of public transit. At a minimum, the new, local zoning laws need to allow at least 15 units per acre, and towns cannot place age restrictions on occupancy. Some communities have skirted state affordable housing laws by limiting new multi-unit construction to "empty-nester" complezs, avoiding the expense of adding kids to the school district.
The state law also requires towns to adopt rules for the new zoning districts that allow for a minimum capacity of 15 percent of the existing housing stock.
In Andover, that provision would allow for a minimum of up to 2,031 new units, based on the town's housing inventory of 13,541 in 2020, according to a November presentation to the planing board. Andover has an overview with links to additional resources about the law on its Website.
The new rules also require towns to approve a special permit for new multi-unit housing in the new districts with a simple majority vote of its planning or zoning boards. Under current rules, special permits require a 4-1 super majority vote for approval.
Tight Timeline For Adoption
Andover has two commuter rail stations. The town has yet to publicly discuss whether the new district would be created around the Andover or Ballardvale station, or both.
"This provision will generate discussion in Andover whether the zoning district shall be near the Ballardvale Station or the downtown station," according to a presentation at Andover's 2021 Financial Summit.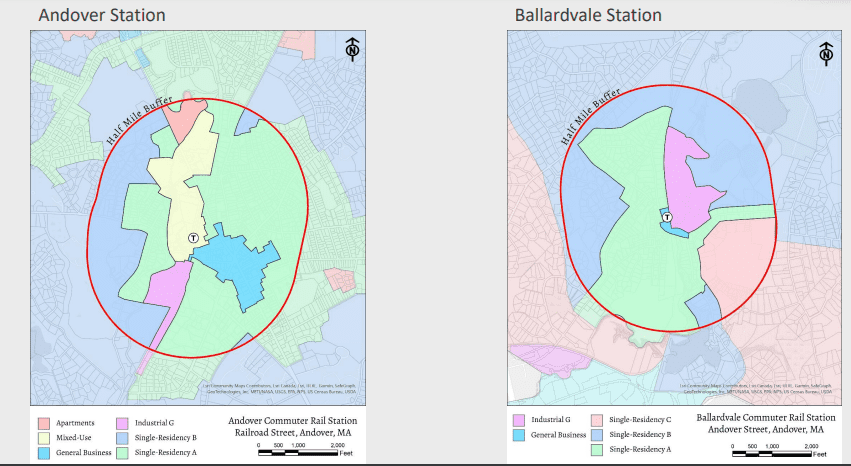 DHCD will review and approve the preliminary plans by July 1. Towns would have to adopt the new zoning rules by the end of next year. In Andover, that would mean drafting the new zoning rules for review by the planning, zoning and select boards, and presenting the new rules for approval to annual town meeting in May 2024.
While the first step is relatively simple, subsequent steps required by the legislation could force towns to dramatically overhaul local zoning laws and "spark complex conversations that could ensnare towns and cities for years," the Boston Globe reported on Saturday. The Massachusetts Housing Partnership has been offering technical assistance to communities affected by the legislation.
"We know this is a big lift,'' MHP Executive Director Clark Ziegler told the newspaper. "That's why we want communities to get out in front of this.''
Some affluent communities with similar demographics to Andover have expressed skepticism about the effort. And zoning changes — particularly ones aimed at increasing affordable housing by allowing more apartment complexes and condominiums — are often divisive issues in such municipalities.
Main photo licensed under Wikimedia Commons.