Over the past several months, cost and the impact on tax bills has been the hot — or at least loudest — topic of discussion on whether to renovate or build a new Andover High School.
But cost and tax impact was only the fifth-biggest concern — after "ongoing deficiencies" if the project is not approved, "disruption to learning during construction," taxpayer burden to maintain the existing building, and length of construction– in results of an online survey presented to the Andover High School Building Committee Thursday. The committee also voted on Thursday to recommend going forward with a plan to build a new school with an auditorium and demolish the Collins Center.
"It's interesting to see…construction costs to taxpayers….at 45 percent down at the bottom there," Joe DeSantis of PMA Consultants, the effort's construction consulting firm, told the committee.
PMA Consultants did not discuss the survey's methodology in its 10-minute presentation. The committee did not ask any questions following the presentation of the survey results. You can view the complete survey results on the building committee's Website.
Nearly three-quarters of respondents had some tie to Andover Public Schools, be it parent, student, APS employee or alum. Of the 135 responses to open-ended questions in the survey, 64 were "supportive," while just 20 were "negative." Ten open-ended responses were neutral, 34 raised "specific considerations" and seven were "Irrelevant/Unable to Categorize."
Of the survey's 583 respondents, only 27.93 percent were Andover residents with no connection to or children enrolled in APS. The biggest number of respondents, at 48.8 percent, were parents or guardians of students enrolled in APS.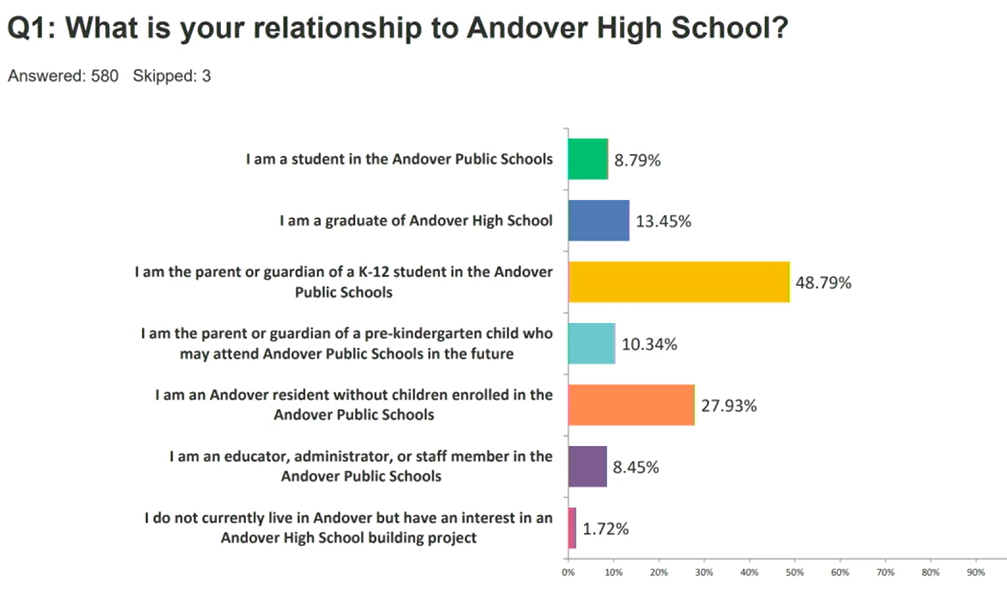 File photo.