Replacing or renovating Andover High School could increase the size of the school by as much as 60.5 percent and allow it to accommodate up to 1,900 students, according to preliminary schematics reviewed by the Andover High School Building Committee at its Nov. 22 meeting.
The building committee is currently weighing options to replace or renovate the existing school, with a goal of presenting a funding request to town meeting next year. While the committee has not taken a formal position on whether it will ask town meeting to approve replacing or renovating the high school, it has signaled the school needs to be replaced.
The building committee expects to make a final decision on whether to renovate or build a new school in February.
The committee skipped over the budget discussion item on its Nov. 22 agenda. A number of factors will play into the final request for funding, including construction costs and a more detailed design for a new school or a renovation. The impact on Andover taxpayers would also be determined by interest rates at the time of any approved borrowing.
The preliminary renovation proposal presented at the Nov. 22 meeting calls for as much as 140,000 square feet in additions to the existing school, which is 157,118 square feet.
A renovation would also present construction scheduling challenges to allow the existing school to remain open during construction. A renovation could take as long as five years, or approximately two years longer than new construction, according to designers.
"There's a lot to think about," AHS Building Committee Chair Mark Johnson said.
A decision by Town Meeting is not expected until next October, but the committee has already begun outreach, including a series of community forums and discussing the project with residents at Andover Days on Sept. 24. The committee is also planning to offer drop-in tours of the existing school for Andover residents`on Jan. 11 from 5:30 to 7 p.m. and Jan. 21 from 9:30 to 11 a.m.
The push for a new high school comes at the same time Andover residents are being asked to approve a tax hike at Thursday's special town meeting to pay for budget overruns at the $151.6 million West Elementary and Shawsheen Preschool construction project.
The AHS building committee's next community forum will be held virtually on Dec. 8 at 7 p.m. See the committee's Website for more information. The committee will also hold a regular meeting at 8:15 a.m. on Dec. 8.
Big Space Increase
The building committee reviewed five early-stage overviews of what a new school would look like at its Nov. 22 meeting, including a preliminary look at potential space based on the design process to date. The draft program from design firm HMFM outlined at the meeting showed a 60.5 percent increase in total floor space to 252,228 square feet from 157,118 square feet in the existing school.
The breakdown of space includes: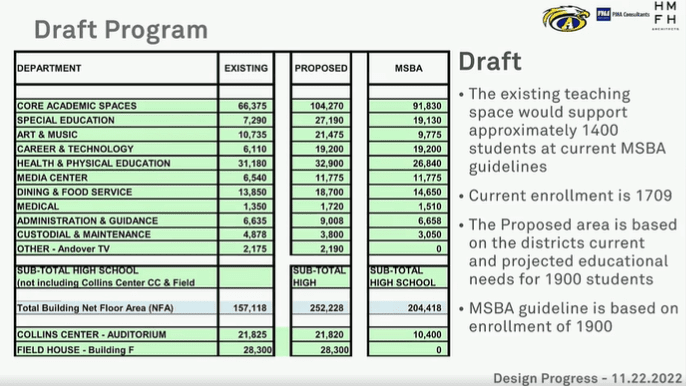 The school's current enrollment is 1,709 students, and a 2017 demographic study suggested the town should aim to build a high school for 1,900 students. Under current guidelines from the Massachusetts School Building Authority, the existing school only has enough space for 1,400 students.
The current high school was designed for 1,200 students in grades 10-12 and opened along with Dunn Gym in 1968. The Collins Center was added in 1983. The last significant renovation came in 1995, when the science wing and field house were added, and the school was expanded to include ninth graders. AHS is just one of three high schools in Essex County that has not been replaced or had major renovations in the past 25 years.
Problems at the current school include outdated technology, poor insulation and mechanical ventilation, and small classrooms with poor lighting. Portions of the building do not meet current building codes or comply with the Americans with Disabilities Act.
In the draft program outlined Nov. 22, the Collins Center and Field House would be preserved in most of the concepts. The new school would likely be three to five stories tall. The committee reviewed several preliminary concepts, including a building that would create a campus, a building that would connect to the field house and Collins Center and a stand-alone building.
No Help From State
Andover has been rejected 10 times for funding by the Massachusetts School Building Authority, including five straight rejections. Reasons include a high number of annual submissions for state funding, schools in more urgent need of replacement, and the fact that Andover is currently receiving MSBA funding for the West El project.
Johnson said at Nov. 22's meeting MSBA will not give serious consideration to funding a new school in Andover until the West El construction project is closed out, which will not happen for "several years."
That means the project could not feasibly be funded by the state until 2032, at which point two more generations of students would have gone through the current high school. That prompted the building committee to move forward without state funding.
More coverage of the AHS building committee on Andover News.
Photo: Andover High School Building Committee
Nov. 22 AHS Building Committee meeting video from Andover TV
Agenda for Nov. 22 AHS Building Committee meeting